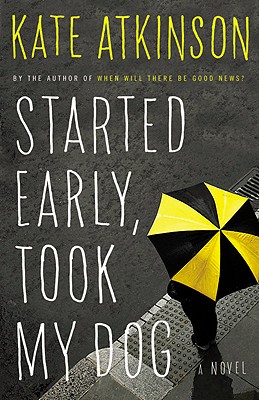 Started Early, Took My Dog (Hardcover)
A Novel (Jackson Brodie #4)
Reagan Arthur Books, 9780316066730, 384pp.
Publication Date: March 21, 2011
Other Editions of This Title:
Digital Audiobook (3/20/2011)
Paperback, Large Print (3/21/2011)
Paperback (10/6/2011)
CD-Audio (3/21/2011)
Compact Disc (3/21/2011)
Paperback (2/1/2011)
Paperback (2/1/2011)
Pre-Recorded Audio Player (3/21/2011)
* Individual store prices may vary.
Description
Tracy Waterhouse leads a quiet, ordered life as a retired police detective-a life that takes a surprising turn when she encounters Kelly Cross, a habitual offender, dragging a young child through town. Both appear miserable and better off without each other-or so decides Tracy, in a snap decision that surprises herself as much as Kelly. Suddenly burdened with a small child, Tracy soon learns her parental inexperience is actually the least of her problems, as much larger ones loom for her and her young charge.

Meanwhile, Jackson Brodie, the beloved detective of novels such as Case Histories, is embarking on a different sort of rescue-that of an abused dog. Dog in tow, Jackson is about to learn, along with Tracy, that no good deed goes unpunished.
About the Author
Kate Atkinson lives in Edinburgh. Her first novel, Behind the Scenes at the Museum, was named Whitbread Book of the Year in the U.K. in 1995, and was followed by Human Croquet, Emotionally Weird, Not the End of the World, Case Histories, One Good Turn, and When Will There Be Good News?.
Praise For Started Early, Took My Dog: A Novel (Jackson Brodie #4)…
"Brilliant...Atkinson seamlessly weaves together [strands] in a plot driven by coincidence and a diamond-hard recognition of man's darker nature...[Tracy's] odyssey as a new parent to a waif dressed in a ragged fairy costume, relayed with both tenderness and wry wit, must be one of the grandest love affairs in crime fiction...For its singular melding of radiant humor and dark deeds, this is must-reading for literary crime-fiction fans."—Joanne Wilkinson, Booklist, starred review

"The sleuthing is less important than Atkinson's fascinating take on the philosophical and emotional dimensions of her characters' lives."—Kirkus

"[The Jackson Brodie books] are an entrancing hybrid of the literary novel/detective story. Case Histories...is a classic....Atkinson's views of contemporary society can be bleak, but she has an amazing eye for kids, dogs and human fallibility."—Mary Ann Gwinn, The Seattle Times

"Magnificently plotted...In the author's signature multilayered style, she shifts between past and present...Atkinson injects wit even in the bleakest moments...yet never loses her razor-sharp edge."—Publishers Weekly, starred review

"I can't take my nose out of Kate Atkinson's new thriller, Started Early, Took My Dog."—Alex Beam, The Boston Globe

"Mixing wry wit and gritty realism, Atkinson deftly smudges the border between literary and detective fiction-with complex, compelling characters negotiating a maze of grisly violence, dark secrets, and shadowy dangers."—Karen Holt, O, The Oprah Magazine

"Wonderful...full of artful digressions and unexpected turns, but it amply makes good on its obligations as a mystery novel to explain the who, what and why."—Tom Nolan, Wall Street Journal

"Mold-breaking...Each one of these [Jackson Brodie] books, including this latest, is a delight: an intricate construction that assembles itself before the reader's eyes, populated by idiosyncratic, multidimensional characters and written with shrewd, mordant grace. They are in some respects mystery novels, but they're written with a literary skill uncommon in that genre, and in a mode -- the tragicomic -- that few but the most adept novelists can pull off in any genre."—Laura Miller, Salon

Ms. Atkinson writes passages that simply have to be read twice, once when you first travel through the book and then later, when you want to see just how she tricked you...Ms. Atkinson remains a wonderful stylist and Grade A schemer...She was never confined to the crime genre, has written in assorted other modes and excels at them all. Whatever she goes on to write, she leaves Jackson Brodie at a suspenseful and pivotal moment. Future installments are well worth waiting for."—Janet Maslin, New York Times

"Every time I hear Kate Atkinson has a new novel on the way, I'm filled with delight. I look forward to many authors' books with pleasure and interest, but Atkinson is such a virtuoso that my brain starts fizzing like a glass of bubbly even before I crack the covers. Started Early, Took My Dog does not disappoint...A witty, moving, suspenseful and always surprising story about the things we do for love...Atkinson's books stake out their own territory on the border between mysteries and literary fiction. There are crimes in this book...but Atkinson is just as concerned with crimes of the heart, and with the unexpected consequences of good intentions. She layers plot and time periods with consummate skill, creating novels that work like elegant jazz improvisations, taking us onto amazing yet believable paths that eventually weave together into an even more astonishing result...Atkinson, as always, brings something fresh to [themes as old as storytelling].—Colette Bancroft, St. Petersburg Times
or
Not Currently Available for Direct Purchase