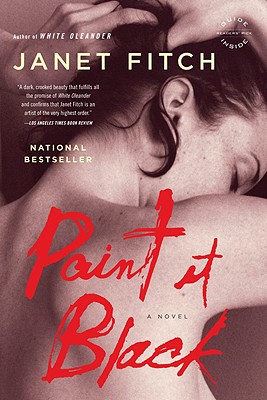 Paint It Black (Paperback)
A Novel
Back Bay Books, 9780316067140, 448pp.
Publication Date: October 3, 2007
Other Editions of This Title:
Digital Audiobook (9/17/2006)
* Individual store prices may vary.
Description
Josie Tyrell, art model, runaway, and denizen of LA's rock scene finds a chance at real love with Michael Faraday, a Harvard dropout and son of a renowned pianist. But when she receives a call from the coroner, asking her to identify her lover's body, her bright dreams all turn to black.

As Josie struggles to understand Michael's death and to hold onto the world they shared, she is both attracted to and repelled by his pianist mother, Meredith, who blames Josie for her son's torment. Soon the two women are drawn into a twisted relationship that reflects equal parts distrust and blind need. With the luxurious prose and fever pitch intensity that are her hallmarks, Janet Fitch weaves a spellbinding tale of love, betrayal, and the possibility of transcendence.

"A dark, crooked beauty that fulfills all the promise of White Oleander and confirms that Janet Fitch is an artist of the very highest order."-Los Angeles Times Book Review

"Lushly written, dramatically plotted. . . Fitch's Los Angeles is so real it breathes."-Atlantic Monthly

"There is nothing less than a stellar sentence in this novel. Fitch's emotional honesty recalls the work of Joyce Carol Oates, her strychnine sentences the prose of Paula Fox."-Cleveland Plain Dealer

"A page-turning psychodrama. . . . Fitch's prose penetrates the inner lives of [her characters] with immediacy and bite."-Publishers Weekly

"Fitch wonderfully captures the abrasive appeal of punk music, the bohemian, sometimes squalid lifestyle, the performers, the drugs, the alienation. This is crackling fresh stuff you don't read every day."-USA Today

"In dysfunctional family narratives, Fitch is to fiction what Eugene O'Neill is to drama."-Chicago Sun-Times

"Riveting. . . . An uncommonly accomplished page-turner."-Elle
About the Author
Janet Fitch's first novel, White Oleander, a #1 bestseller and Oprah's Book Club selection, has been translated into twenty-eight languages and was made into a feature film. Her second novel, Paint It Black, hit bestseller lists across the country and has also been made into a film. Her third novel, The Revolution of Marina M., begins an epic journey through the Russian Revolution, which concludes with Chimes of a Lost Cathedral. She lives with her husband in Los Angeles.