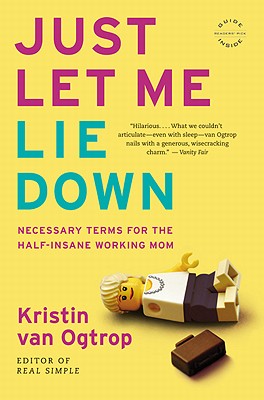 Just Let Me Lie Down
Necessary Terms for the Half-Insane Working Mom
Paperback

* Individual store prices may vary.
Other Editions of This Title:
Hardcover (4/1/2010)
Description
Kristin van Ogtrop knows she's lucky-fulfilling career, great husband, three healthy kids, and, depending on the hamster count, an impressive roster of pets. You could also say she's half-insane, but name one working mom who isn't.

Using stories and insights from her own life, van Ogtrop offers a lexicon for working moms everywhere. Terms and concepts illustrate the highs (kids who know where their soccer cleats are, coworkers who don't hit "Reply All," dogs who helpfully eat whatever falls from the table) and the lows (getting out of the house in the morning, getting along with everyone at the office, getting willful kids into bed) of balancing work and family.

Filled with amusing and resonant observations, Just Let Me Lie Down establishes van Ogtrop as the Erma Bombeck of the new millennium.
Praise For Just Let Me Lie Down: Necessary Terms for the Half-Insane Working Mom…
"God bless you, Kristin van Ogtrop. Just Let Me Lie Down is a lexicon for legions of working moms. van Ogtrop nails with a generous, wisecracking charm what we couldn't--even with sleep--articulate."—Elissa Schappell, Vanity Fair

"A witty lexicon of marriage and motherhood."—Vogue

"van Ogtrop has created an entire lexicon for modern parenting to make the life of a working mother that much easier, not to mention funnier."—The Daily Beast

"A hysterical and touching handbook for frantic working moms."—Self magazine

"Frank and funny."—Entertainment Weekly

"Full of humor and insight of how to juggle a successful career and a growing family."—Danielle Dreger-Babbitt, Seattle Book Examiner

"This handy survival-primer will offer a laugh, some respite or both. There's something for every mom here."—Linda M. Castellitto, Bookpage

"van Ogtrop offers insightful advice with humor and warmth."—Marigne Dupuy, the Times-Picayune

"Sometimes funny, sometimes poignant, but pretty much dead on."—Tara Trower, "Mama Drama" columnist for The Austin American Statesman

"Full of hard-won wisdom and kick-ass wit, JustLet Me Lie Down perfectly captures the joys and frustrations of an entire exhausted demographic. I would like to add one more thing to van Ogtrop's mile-long To-Do list: Run for President."—Mary Roach, author of Bonk, Spook, and Stiff

"Just Let Me Lie Down is the very definition of a smart, funny, and useful book about parenting and work. If you can add one more item to your towering to-do list, it should be to read this book."—AJ Jacobs, author of The Year of Living Biblically and The Know-It-All

"Wise, warm, and well-adjusted, Kristin van Ogtrop untangles life's alphabet of chaos one letter at a time."—Ben Schott, author of Schott's Miscellany

"A wise and witty thesaurus of marriage and parenthood. The ideal girlfriend gift."—Jacquelyn Mitchard, author of The Deep End of the Ocean

"Wise, moving and hilarious--and refreshingly (ok, staggeringly) honest--Just Let Me Lie Down captures the choas, ambivalence, and dagger-through-my-heart love felt by just about every working mother."—Cathi Hanauer, editor of The Bitch in the House and author of Sweet Ruin

"A smart and hilarious primer for all those terminally over-committed moms who not only could use a laugh, but need one."—Steve Almond, author of Candy Freak and (Not That You Asked)
Little, Brown Spark, 9780316068291, 288pp.
Publication Date: April 6, 2011
About the Author
Kristin van Ogtrop, the former editor-in-chief of Real Simple, is a literary agent at InkWell Management. Under her stewardship, Real Simple became the #1 American women's lifestyle magazine brand with a print and digital reach of 25 million and was nominated for 15 National Magazine Awards. Kristin's blog, "Adventures in Chaos," was nominated for a Media Industry Newsletter "Best of the Web" award, and in 2014, she was named by Fortune magazine as one of the "55 Most Influential Women on Twitter." She is a contributor to the New York Times bestseller, The Bitch in the House and the author of Just Let Me Lie Down, published by Little, Brown. As an agent, she represents memoir, commercial women's fiction, humor, lifestyle and big idea books driven by counterintuitive thinking.