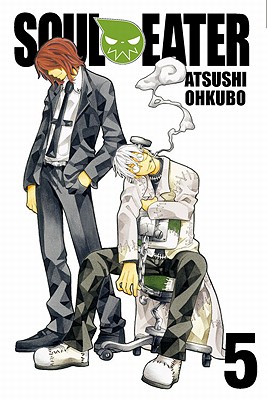 Soul Eater, Vol. 5 (Paperback)
Yen Press, 9780316071079, 192pp.
Publication Date: February 22, 2011
Description
On the night of DWMA's anniversary celebration, every meister and weapon in Death City has gathered at the school for an evening of music and dancing. Little do they know that the witch Medusa is about the crash Shinigami-sama's party. Trapping the meisters inside, the witch makes her way to the chamber where the First Kishin is imprisoned. Will the few meisters who've managed to escape be enough to prevent Medusa from rousing the madness that slumbers far below in the Kishin's domain?
About the Author
Atsushi Ohkubo's debut manga series, B.ICHI, originally appeared in Square Enix's MONTHLY SHONEN GANGAN magazine. Upon completion of the series, his concept for SOUL EATER began as a series of shorts appearing in the same magazine and later became the long-running work that has earned him international renown. In 2011, he began working on a prequel series entitled SOUL EATER NOT!
Advertisement