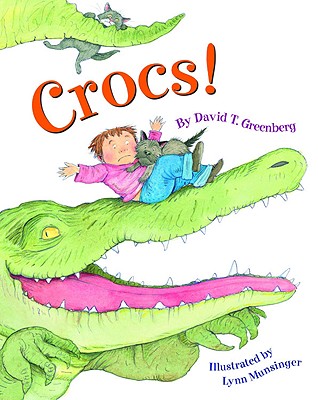 Crocs! (Hardcover)
Little, Brown Books for Young Readers, 9780316073066, 32pp.
Publication Date: May 1, 2008
* Individual store prices may vary.
or
Not Currently Available for Direct Purchase
Description
Crocs are wild when riled,
But, usually mild
Milder than a mouse
And they want to assure you
They love you, adore you
Which is why they've moved into your house
Crocs populate scary movies, fenced-in zoo enclosures, and nightmares. But what if a horde of crocs moved in with you?
A boy in need of a vacation heads to a tropical island, expecting rest and relaxation until a horde of crocodiles descend upon him. In David Greenberg's disgustingly funny version, crocs drink Tabasco sauce, get tangled in dental floss, and turn the house in a swamp. In the dramatic climax, the biggest croc of all reveals himself, and in a surprising twist, crowns our hero the king of the crocs. Fans of Snakes , Slugs, Bugs and Skunks will delight in this newest celebration of a creepy creature.
About the Author
David Greenberg was born in Brooklyn, NY, went to Reed College, and lives in the Northwest. He and his wife Susan preside over a recombined family of four, Sam, Evan, Alexandra, and Jane (who has four legs and a tail and will happily eat off the floor or table or even the street itself). With the exception of one historical novel (A Tugging String), David has written poetry picture books exclusively, most with LB, but with FSG, Dutton, and Bantam as well. Titles include, Slugs, Bugs!, Skunks!, Snakes!, Whatever Happened to Humpty Dumpty?, and Enchanted Lions, among many. He is director of the Oregon Coast Children's Book Writers Workshop and Publish a Picture Book, Intensive Online Course. He visits schools nationally and around the world to read from his works and teach writing.Lynn Munsinger is the illustrator of nearly one hundred picture books, including Bugs!, Skunks!, and Crocs! by David T. Greenberg. She lives in Vermont.
Advertisement