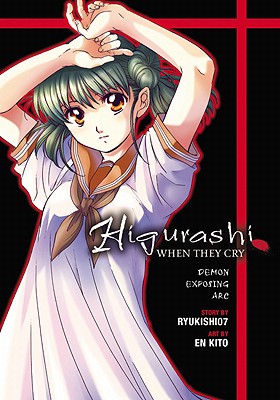 Higurashi When They Cry (Paperback)
Demon Exposing Arc (Higurashi Demon Exposing Arc #1)
Yen Press, 9780316073349, 400pp.
Publication Date: May 31, 2011
* Individual store prices may vary.
Description
It's been almost a year since Natsumi and her family moved from the town of Onigafuchi. Her grandmother, a native of Hinamizawa village, fears that they will be cursed for abandoning the mountains, but Natsumi has never been happier, making new friends and enjoying school life. When a terrible gas explosion in Hinamizawa wipes out everyone in the village, her grandmother is convinced it is the wrath of the village god, Oyashiro-sama. Natsumi's family has never taken Grandmother's beliefs seriously, but her devotion to Oyashiro-sama has taken a frightening turn. Have the old woman's fanatical convictions gone too far?
About the Author
Ryukishi07 leapt into the spotlight with HIGURASHI NO NAKU KORO NI which was originally conceived as a series of visual novels and later adapted into the popular manga and anime franchise.