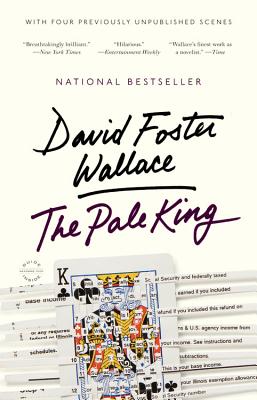 The Pale King
Hardcover

* Individual store prices may vary.
Other Editions of This Title:
Digital Audiobook (4/14/2011)
Hardcover, Large Print (4/15/2011)
Paperback (4/10/2012)
CD-Audio (4/15/2011)
Compact Disc (4/15/2011)
Description
The "breathtakingly brilliant" novel by the author of Infinite Jest (New York Times) is a deeply compelling and satisfying story, as hilarious and fearless and original as anything Wallace ever wrote. 

The agents at the IRS Regional Examination Center in Peoria, Illinois, appear ordinary enough to newly arrived trainee David Foster Wallace. But as he immerses himself in a routine so tedious and repetitive that new employees receive boredom-survival training, he learns of the extraordinary variety of personalities drawn to this strange calling. And he has arrived at a moment when forces within the IRS are plotting to eliminate even what little humanity and dignity the work still has.

The Pale King remained unfinished at the time of David Foster Wallace's death, but it is a deeply compelling and satisfying novel, hilarious and fearless and as original as anything Wallace ever undertook. It grapples directly with ultimate questions -- questions of life's meaning and of the value of work and society -- through characters imagined with the interior force and generosity that were Wallace's unique gifts. Along the way it suggests a new idea of heroism and commands infinite respect for one of the most daring writers of our time.

"The Pale King is by turns funny, shrewd, suspenseful, piercing, smart, terrifying, and rousing." --Laura Miller, Salon
Praise For The Pale King…
"One hell of a document and a valiant tribute to the late Wallace.....Stretches of this are nothing short of sublime--the first two chapters are a real put-the-reader-on-notice charging bull blitz, and the David Foster Wallace sections...are tiny masterpieces of that whole self-aware po-mo thing of his that's so heavily imitated.... often achingly funny...pants-pissingly hilarious....Yet, even in its incomplete state...the book is unmistakably a David Foster Wallace affair. You get the sense early on that he's trying to cram the whole world between two covers. As it turns out, that would actually be easier to than what he was up to here, because then you could gloss over the flyover country that this novel fully inhabits, finding, among the wigglers, the essence of our fundamental human struggles."—Publishers Weekly

"The final, beautiful act of an unwilling icon...one of the saddest, most lovely books I've ever read...Let's state this clearly: You should read THE PALE KING.... You'll be [kept up at night] because D.F.W. writes sentences and sometimes whole pages that make you feel like you can't breathe...because again and again he invites you to consider some very heavy things....Through some function of his genius, he causes us to ask these questions of ourselves."—Benjamin Alsup, Esquire

"Deeply sad, deeply philosophical...breathtakingly brilliant...funny, maddening and elegiac...[David Foster Wallace's] most emotionally immediate work...It was in trying to capture the hectic, chaotic reality--and the nuanced, conflicted, ever-mutating thoughts of his characters--that Wallace's synesthetic prose waxed so prolix, his sentences unspooling into tangled skeins of words, replete with qualifying phrases and garrulous footnotes...because in almost everything Wallace wrote, including THE PALE KING, he aimed to use words to lasso and somehow subdue the staggering, multifarious, cacophonous predicament that is modern American life."—Michiko Kakutani, The New York Times

"The overture to Wallace's unfinished last novel is a rhapsodic evocation of the subtle vibrancy of the midwestern landscape, a flat, wind-scoured place of potentially numbing sameness that is, instead, rife with complex drama....feverishly encompassing, sharply comedic, and haunting...this is not a novel of defeat but, rather, of oddly heroic persistence.... electrifying in its portrayal of individuals seeking unlikely refuge in a vast, absurd bureaucracy. In the spirit of Borges, Gaddis, and Terry Gilliam's Brazil (1985), Wallace conducts a commanding and ingenious inquiry into monumental boredom, sorrow, the deception of appearances, and the redeeming if elusive truth that any endeavor, however tedious, however impossible, can become a conduit to enlightenment, or at least a way station in a world where 'everything is on fire, slow fire.'"—Donna Seaman, Booklist (starred review)

"THE PALE KING represents Wallace's finest work as a novelist...Wallace made a career out of rushing in where other writers feared to tread or wouldn't bother treading. He had an outsize, hypertrophied talent...THE PALE KING is an attempt to stare directly into the blind spot and face what's there...His ability to render the fine finials and fractals and flourishes of a mind acting upon itself, from moment to moment, using only the blunt, numb instruments of language, has few if any equals in American literature..this we see him do at full extension."—Lev Grossman, TIME

"To read THE PALE KING is in part to feel how much Wallace had changed as a writer, compressed and deepened himself...It's easy to make the book sound heavy, but it's often very funny, and not politely funny, either...Contains what's sure to be some of the finest fiction of the year."—John Jeremiah Sullivan, GQ

"A thrilling read, replete with the author's humor, which is oftentimes bawdy and always bitingly smart.... The notion that this book is 'unfinished' should not be given too much weight. The Pale King is, in many ways, quite complete: its core characters are fully drawn, each with a defining tic, trait, or backstory... Moreover, the book is far from incomplete in its handling of a host of themes, most of them the same major issues, applicable to all of us, with which Wallace also grappled in Infinite Jest: unconquerable boredom, the quest for satisfaction in work, the challenge of really knowing other people and the weight of sadness.... The experience to be had from reading The Pale King feels far more weighty and affecting than a nicely wrapped story. Its reach is broad, and its characters stay with you."—Daniel Roberts, National Public Radio

"The four-word takeaway: You should read it!"—New York Magazine

"An astonishment, unfinished not in the way of splintery furniture but in the way of Kafka's Castle or the Cathedral of St. John the Divine ... What's remarkable about The Pale King is its congruity with Wallace's earlier ambitions ... The Pale King treats its central subject--boredom itself--not as a texture (as in Fernando Pessoa), or a symptom (as in Thomas Mann), or an attitude (as in Bret Easton Ellis), but as the leading edge of truths we're desperate to avoid. It is the mirror beneath entertainment's smiley mask, and The Pale King aims to do for it what Moby-Dick did for the whale ... Watching [Foster Wallace] loosed one last time upon the fields of language, we're apt to feel the way he felt at the end of his celebrated essay on Federer at Wimbledon: called to attention, called out of ourselves."—Garth Risk Hallberg, New York Magazine

"Wallace's gift for language, especially argot of all sorts, his magical handling of masses of detail...[these] talents are on display again in The Pale King."—Jeffrey Burke, Bloomberg

"An incomplete, complex, confounding, brilliant novel...Reading THE PALE KING is strangely intimate...it also comes with a note of grace."—Sam Anderson, New York Times Magazine

"The most anticipated posthumous American novel of the last century...[Wallace was] America's most-gifted writer...American literature will rarely, if ever, give us another mind like Wallace's...ferociously written...richly imagined...a deep panoply of lives and the post-modern awareness of how this all was constructed, both the work and the vortex of current life."—John Freeman, Boston Globe

"THE PALE KING represents Wallace's effort, through humor, digression and old-fashioned character study, to represent IRS agents...as not merely souled, but complexly so. He succeeds, profoundly, and the rest of the book's intellectual content is gravy. Yes, parts are difficult, but 'boring' never comes into it. And it's very, very funny."—Sam Thielman, Newsday

"It may be unfinished, but the reviews-cum-retrospectives all soundly agree: It's still a book to be read."—The Miami Herald

"A fully imagined, often exquisitely fleshed-out novel about a dreary Midwestern tax-return processing center that he has caused to swarm with life.... a series of bravura literary performances--soliloquies; dialogues; video interview fragments; short stories with the sweep and feel of novellas...This is what 360-degree storytelling looks like, and if it doesn't come to a climax or end, exactly, that may not be a defect."—Judith Shulevitz, Slate

"It could hardly be more engaging. The Pale King is by turns funny, shrewd, suspenseful, piercing, smart, terrifying and rousing."—Laura Miller, Salon

"Strange, entertaining, not-at-all boring...Wallace transforms this driest of settings into a vivid alternate IRS universe, full of jargon and lore and elaborately behatted characters, many of them with weird afflictions and/or puzzling supernatural abilities....hilarious...brilliant and bizarre, another dispatch from Wallace's...endlessly fascinating brain."—Rob Brunner, Entertainment Weekly

"Exhilarating."—Hillel Italie, Associated Press

"Heroic and humbling...sad, breathtakingly rigorous and searching, ultimately hysterically funny."—Matt Feeney, Slate

"Brilliant...[it] glimmers and sparkles."—Richard Rayner, The Los Angeles Times
Little, Brown and Company, 9780316074230, 560pp.
Publication Date: April 15, 2011
About the Author
David Foster Wallace was born in Ithaca, New York, in 1962 and raised in Illinois, where he was a regionally ranked junior tennis player. He received bachelor of arts degrees in philosophy and English from Amherst College and wrote what would become his first novel, The Broom of the System, as his senior English thesis. He received a masters of fine arts from University of Arizona in 1987 and briefly pursued graduate work in philosophy at Harvard University. His second novel, Infinite Jest, was published in 1996.

Wallace taught creative writing at Emerson College, Illinois State University, and Pomona College, and published the story collections Girl with Curious Hair, Brief Interviews with Hideous Men, Oblivion, the essay collections A Supposedly Fun Thing I'll Never Do Again, and Consider the Lobster. He was awarded the MacArthur Fellowship, a Lannan Literary Award, and a Whiting Writers' Award, and was appointed to the Usage Panel for The American Heritage Dictionary of the English Language. He died in 2008. His last novel, The Pale King, was published in 2011.
Coverage from NPR