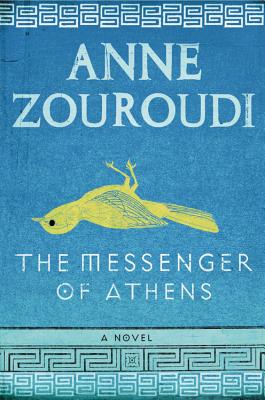 The Messenger of Athens (Hardcover)
Reagan Arthur Books, 9780316075428, 336pp.
Publication Date: July 1, 2010
Other Editions of This Title:
Compact Disc (12/31/2013)
MP3 CD (12/31/2013)
Paperback (7/1/2011)
Pre-Recorded Audio Player (1/14/2014)
Paperback (6/1/2011)
* Individual store prices may vary.
Description
Idyllic but remote, the Greek island of Thiminos seems untouched and untroubled by the modern world. So when the battered body of a young woman is discovered at the foot of a cliff, the local police - governed more by archaic rules of honor than by the law - are quick to close the case, dismissing her death as an accident.

Then a stranger arrives, uninvited, from Athens, announcing his intention to investigate further into the crime he believes has been committed. Refusing to accept the woman's death as an accident or suicide, Hermes Diaktoros sets out to uncover the truths that skulk beneath this small community's exterior. Hermes's methods of investigation are unorthodox, and his message to the islanders is plain - tell the truth or face the consequences. Before long, he's uncovering a tale of passion, corruption and murder that entangles many of the island's residents. But Hermes brings his own mystery into the web of dark secrets and lies - and as he travels the rugged island landscape to investigate, questions and suspicions arise amongst the locals. Who has sent him to Thiminos, and on whose authority is he acting? And how does he know of dramas played out decades ago? Rich in images of Greece's beautiful islands and evoking a life unknown to most outsiders, this wonderful novel leads the reader into a world where the myths of the past are not forgotten and forbidden passion still has dangerous consequences.
About the Author
Anne Zouroudi was born in England and has lived in the Greek islands. Her attachment to Greece remains strong, the country is the inspiration for much of her writing. She now lives in northern England.
Praise For The Messenger of Athens…
"Anne Zouroudi writes beautifully - her books have all the sparkle and light of the island landscapes in which she sets them."
-Alexander McCall Smith

"Hermes Diaktoros is a delight. Half Poirot, half deus ex machina, but far more earth-bound than his first name suggests, the portly detective has an other-worldly, Marlowesque incorruptibility as he waddles through the mean olive groves. There is also a cracking plot, colourful local characters and descriptions of the hot, dry countryside so strong that you can almost see the heat haze and hear the cicadas - the perfect read to curl up with as the nights draw in."
-The Guardian

"This powerfully atmospheric mystery embraces Mediterranean passion, mythic meddling and patriarchal persecution."
-Independent

"Absorbing and beautifully written...reveals the savage, superstitious reality behind the pretty facade that is all that most of us know of any Greek island."
-Literary Review
or
Not Currently Available for Direct Purchase