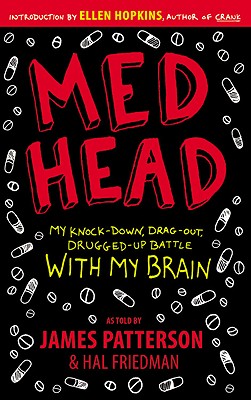 Med Head (Paperback)
My Knock-down, Drag-out, Drugged-up Battle with My Brain
jimmy patterson, 9780316076173, 320pp.
Publication Date: April 1, 2010
* Individual store prices may vary.
Description
Discover the story of one teenager's struggles with OCD and Tourette's Syndrome-and how he was able to overcome extraordinary setbacks.
Cory Friedman knows how it feels to have a body that won't stop moving, to be really different from everyone else, to be made fun of every day, to be totally reckless, to never relax, to be shut out of everything, to break free and take control.
James Patterson's Against Medical Advice riveted adults with the page-turning drama of one teenager's courage, sacrifice, and triumph in confronting an agonizing medical condition. Now this deeply personal account of Cory Friedman's intense struggles with Tourette's Syndrome and Obsessive Compulsive Disorder-as well as depression, anxiety, and alcohol addiction-is available for teen readers.
About the Author
James Patterson has had more New York Times bestsellers than any other writer, ever, according to Guinness World Records. Since his first novel won the Edgar Award in 1977 James Patterson's books have sold more than 300 million copies. He is the author of the Alex Cross novels, the most popular detective series of the past twenty-five years, including Kiss the Girls and Along Came a Spider. He writes full-time and lives in Florida with his family.