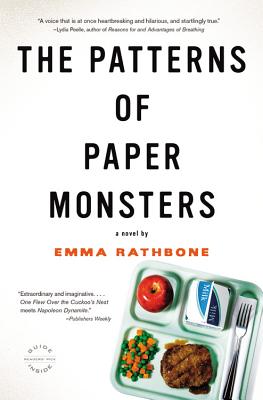 The Patterns of Paper Monsters
Paperback

* Individual store prices may vary.
Other Editions of This Title:
Digital Audiobook (4/7/2011)
Description
Jacob Higgins's teenage rage rarely simmers below the surface for long. He despises his negligent mother and her alcoholic boyfriend, Refrigerator Man, and he's indifferent to school and his friends -- though a little less casual about girls and marijuana. His antics have landed him in a North Virginia detention center, where nihilism, freedom, and redemption all take on unexpected guises. In a voice filled with confusion, yearning, and sardonic humor, Jacob narrates his improbably sweet romance with Andrea, an inmate with whom he shares rare glances, melodramatic conversation, and waxy cookies at rigidly chaperoned "socials." But when David, a mysterious, conniving adolescent, handpicks him to assist in a plot to bring about the center's demise, Jacob has to weigh the frail new optimism of his relationship with Andrea against the allure of destruction, rebellion, and escape.

In her pitch-perfect debut, Emma Rathbone adroitly captures the drama, both comic and deadly serious, of growing up.
Praise For The Patterns of Paper Monsters…
"No matter how loudly I praised The Patterns of Paper Monsters, no matter how many classic coming-of-age stories I compared it to, the unforgettably sarcastic and broken and endearing narrator, Jacob Higgons, would no doubt roll his eyes and show his teeth in a smile that was more of a snarl and say, 'Can't you do better than that?' And I would want-as I wanted so many times when reading this debut novel-to slap him upside the head and strangle him into a hug. And you will feel the same way, utterly charmed and disgusted, ultimately moved, when you read what promises to be one of the best books of the year by one of our best new writers, Emma Rathbone."
--Benjamin Percy, author of The Wilding, Refresh, Refresh, and The Language of Elk



"Patterns of Paper Monsters is a dispatch from the teenage wasteland of a juvenile detention center, fervidly delivered by Emma Rathbone's irreverent, perceptive, and achingly funny young hero, Jacob Higgins. He refuses to succumb to the numbness and absurdity of his incarceration, in turn holding a jagged mirror shard to adolescence, failed relationships, and life in modern America. A voice that is at once heartbreaking and hilarious, and startlingly true."
--Lydia Peelle, author of Reasons for and Advantages of Breathing

"There is a new and seductive electricity in the voice of Emma Rathbone's brilliant young narrator, Jake Higgins. Listen to him! Unafraid, unsentimental, and destructively smart, The Patterns of Paper Monsters masterfully turns sadness into ecstatic, shocking laughter."
--Patrick Somerville, author of The Cradle
Back Bay Books, 9780316077507, 224pp.
Publication Date: August 9, 2010
About the Author
Emma Rathbone is a graduate of New York University and the MFA Fiction Program at the University of Virginia. She currently lives in Charlottesville.