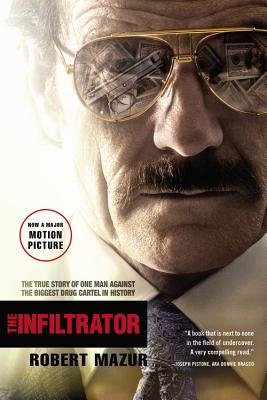 The Infiltrator (Paperback)
The True Story of One Man Against the Biggest Drug Cartel in History
Back Bay Books, 9780316077521, 384pp.
Publication Date: June 21, 2016
Other Editions of This Title:
Hardcover (7/1/2009)
Hardcover (7/27/2009)
Paperback, Spanish (3/8/2016)
* Individual store prices may vary.
Description
The electrifying true story of Robert Mazur's life as an undercover agent who infiltrated one of the world's largest drug cartels by posing as a high-level money launderer -- the inspiration for the major motion picture The Infiltrator.

Robert Mazur spent years undercover infiltrating the Medellín Cartel's criminal hierarchy. The dirty bankers and businessmen he befriended -- some of whom still shape power across the globe -- knew him as Bob Musella, a wealthy, mob-connected big shot living the good life. Together they partied in $1,000-per-night hotel suites, drank bottles of the world's finest champagne, drove Rolls-Royce convertibles, and flew in private jets. But under Mazur's Armani suits and in his Renwick briefcase, recorders whirred silently, capturing the damning evidence of their crimes.

The Infiltrator is the story of how Mazur helped bring down the unscrupulous bankers who manipulated complex international finance systems to serve drug lords, corrupt politicians, tax cheats, and terrorists. It is a shocking chronicle of the rise and fall of one of the biggest and most intricate money-laundering operation of all time-an enterprise that cleaned and moved hundreds of millions of dollars a year. Filled with dangerous lies, near misses, and harrowing escapes, The Infiltrator is as bracing and explosive as the greatest fiction thrillers -- only it's all true.
About the Author
Robert Mazur was a federal agent for 27 years. During 5 years of his law enforcement career he was a long-term undercover agent operating in deep cover within the underworld as a high-level money launderer for senior members of Colombian drug cartels. He not only dealt directly with cartel leaders, but also functioned as their counduit to corrupt international bankers around the world.

He is court-certified in both the U.S. and Canada as an expert in money laundering. Mr. Mazur has been a significant contributor to news and media outlets, including the New York Times, PBS, ABC and NBC. 
Praise For The Infiltrator: The True Story of One Man Against the Biggest Drug Cartel in History…
"One of the largest money laundering prosecutions in U.S. History."
—
Robert Mueller III, director of the FBI and former assistant attorney general at the Department of J
"Robert Mazur not only took the lead undercover role, but fought
valiantly against the bureaucratic difficulties. . . . It was as
significant an accomplishment as we have seen in law enforcement in
recent times."
—
Senator John Kerry
"Mesmerizing....Once you've picked up this book, I guarantee you will not put it down."
—
Steven Emerson, author of American Jihad
"Bob Mazur is a dedicated individual who has demonstrated courage and
leadership and has written a book that is next to none in the field of
undercover. A very compelling read."
—
Joseph Pistone aka Donnie Brasco
or
Not Currently Available for Direct Purchase