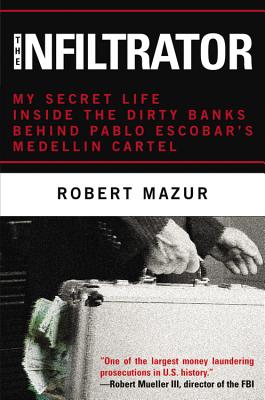 The Infiltrator: My Secret Life Inside the Dirty Banks Behind Pablo Escobar's Medellin Cartel (Hardcover)
My Secret Life Inside the Dirty Banks Behind Pablo Escobar's Medellin Cartel
Little Brown and Company, 9780316077538, 368pp.
Publication Date: July 1, 2009
* Individual store prices may vary.
or
Not Currently Available for Direct Purchase
Description
The electrifying true story that inspired the major new motion picture "The Infiltrator"
Robert Mazur spent years undercover infiltrating the Medellin Cartel's criminal hierarchy. The dirty bankers and businessmen he befriended-some of whom still shape power across the globe-knew him as Bob Musella, a wealthy, mob-connected big shot living the good life. Together they partied in $1,000-per-night hotel suites, drank bottles of the world's finest champagne, drove Rolls-Royce convertibles, and flew in private jets. But under Mazur's Armani suits and in his Renwick briefcase, recorders whirred silently, capturing the damning evidence of their crimes.
"
The Infiltrator" is the story of how Mazur helped bring down the unscrupulous bankers who manipulated complex international finance systems to serve drug lords, corrupt politicians, tax cheats, and terrorists. It is a shocking chronicle of the rise and fall of one of the biggest and most intricate money-laundering operation of all time-an enterprise that cleaned and moved hundreds of millions of dollars a year. Filled with dangerous lies, near misses, and harrowing escapes, " The Infiltrator" is as bracing and explosive as the greatest fiction thrillers-only it's all true.
About the Author
Robert Mazur served for 27 years as a federal special agent for the IRS, the Customs Service, and the Drug Enforcement Administration. Now the president of Chase and Associates, an agency that advises law firms and public companies on banking protocols and risk assessment, he lives in Florida with his family.
Advertisement