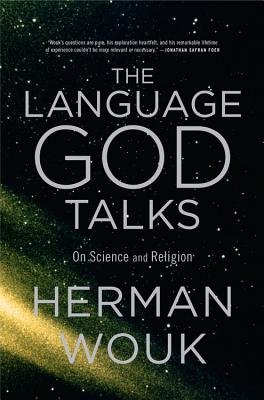 The Language God Talks
On Science and Religion
Paperback

* Individual store prices may vary.
Other Editions of This Title:
Digital Audiobook (4/4/2010)
Hardcover (4/5/2010)
Hardcover, Large Print (4/5/2010)
CD-Audio (4/5/2010)
Description
"More years ago than I care to reckon up, I met Richard Feynman." So begins The Language God Talks, Herman Wouk's gem on navigating the divide between science and religion. In one rich, compact volume, Wouk draws on stories from his life as well as on key events from the 20th century to address the eternal questions of why we are here, what purpose faith serves, and how scientific fact fits into the picture. He relates wonderful conversations he's had with scientists such as Feynman, Murray Gell-Mann, Freeman Dyson, and Steven Weinberg, and brings to life such pivotal moments as the 1969 moon landing and the Challenger disaster.

Brilliantly written, The Language God Talks is a scintillating and lively investigation and a worthy addition to the literature.
Praise For The Language God Talks: On Science and Religion…
"In a crowded book market filled with self-serving and redundant theories about humankind's place in the grand scheme, it is rare to encounter an original, honest, charming voice. Such is the case with Wouk's latest work....Wouk's humility, humor and insight make the book a joy to read and a wonder to contemplate...Authentic, accessible prose mixed with real insight."
—
Kirkus Reviews
"As engaging as [Wouk's] megaselling historical novels."
—
Booklist
"Herman Wouk is one of the wisest men I have ever known. In aviation the best information comes from pilots themselves, in airplanes, not from air-traffic controllers or meteorologists on the ground, in some big air-conditioned office. In
The Language God Talks,
Herman sends us all a most valuable pilot report."—
Jimmy Buffett, Vanity Fair
"The Language God Talks
is simply and wonderfully an old and gifted writer's fascinating look back on a world that, for 94 years, he has called home."—
Seed Magazine
"Wouk is a great storyteller, and his anecdotes about meeting with brilliant thinkers such as Feynman are entertaining. With Wouk's conversational writing style and humble approach to his subject,
The Language God Talks
is a fun, intellectually engaging book."—
Doug Childers, Richmond-Times Dispatch
"A short, satisfying read. Wouk's writing is so captivating, still as elegant as ever. It demonstrates that Wouk hasn't lost a whit of his storytelling genius."
—
Dinesh Ramde, Associated Press
"A kind of compact philosophical autobiography and a unique opportunity for readers to glimpse the innermost musings and intimate experiences that prepared Wouk for the many books that he has bestowed upon us."
—
The Jewish Journal
"The Language God Talks
is a seminal read. In this book there is a true to life drama: It is Wouk himself, torn between two worlds, and reconciling them both."—
Lee Chottiner, The Jewish Chronicle
"In this book, as in his previous ones, whenever Herman Wouk speaks of God it is always with both exquisite curiosity and warmth."
—
Elie Wiesel
"Wouk's questions are pure, his exploration heartfelt, and his remarkable lifetime of experience couldn't be more relevant or necessary."
—
Jonathan Safran Foer
"A stunning rumination on life's important questions by a masterful storyteller."
—
Marisha Pessl, author of Special Topics in Calamity Physics
Little, Brown Spark, 9780316078443, 208pp.
Publication Date: May 30, 2011
About the Author
Herman Wouk's acclaimed novels include the Pulitzer Prize-winning The Caine Mutiny; Marjorie Morningstar; Don't Stop the Carnival; Youngblood Hawke; The Winds of War; War and Remembrance; Inside, Outside; The Hope; The Glory; and A Hole in Texas.