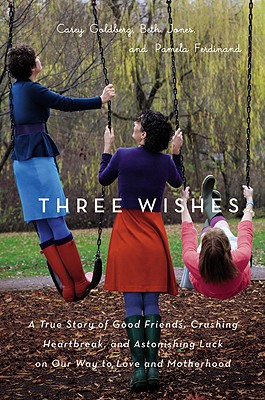 Three Wishes (Hardcover)
A True Story of Good Friends, Crushing Heartbreak, and Astonishing Luck on Our Way to Love and Motherhood
Little, Brown and Company, 9780316079068, 288pp.
Publication Date: April 1, 2010
Other Editions of This Title:
Paperback (1/5/2012)
Paperback (5/1/2011)
* Individual store prices may vary.
Description
Carey, Beth, and Pam had succeeded at work but failed at romance, and each resolved to have a baby before time ran out. Just one problem: no men. Carey took the first bold step towards single motherhood, searching anonymous donor banks until she found the perfect match.

What she found was not a father in a vial, but a sort of magic potion. She met a man, fell in love, and got pregnant the old-fashioned way. She passed the vials to Beth, and it happened again. Beth met man, Beth got pregnant. Beth passed the vials to Pam, and the magic struck again. There were setbacks and disappointments, but three women became three families, reveling in the shared joy of love, friendship, and never losing hope.
About the Author
Carey Goldberg has been Boston bureau chief of the" New York Times," Moscow correspondent for the" Los Angeles Times, " and most recently a health-and-science reporter at the" Boston Globe." She now writes happily at home. Beth Jones is a freelance writer and educator who has contributed to the" Boston Globe, "" New York Times," and numerous academic journals. She plans to climb many more frozen waterfalls. PamelaFerdinand is an award-winning freelance journalist and former reporter for the" Washington Post," "Boston Globe," and "Miami Herald. S"he remains an incorrigible romantic. Carey and Beth live near Boston with their families; Pamela and her family live outside Chicago. Still close, they continue to believe that with good friends, love, and a little luck, almost anything is possible.
Praise For Three Wishes: A True Story of Good Friends, Crushing Heartbreak, and Astonishing Luck on Our Way to Love and Motherhood…
"Reading Three Wishes is like being let into the juiciest of confidences. I dare you not to root for these tough and gentle women."
-Jill Eisenstadt, author of From Rockaway and Kiss Out

"Three Wishes is a page-turner--full of twists and turns, great and small--that proves life is still a mystery and nothing, if we want it badly enough, is impossible."
-Laura Zigman, author of Animal Husbandry and Piece of Work

"Riveting, seriously riveting!...It's so triumphant, too, in the best possible way."
-Julia Sweeney, author of God Said, Ha!

"This braided story--of longing, persistence, plans gone awry, the gifts of good luck--is at its center about love in its many forms. With its magic numbers and precious vials, it might be a fairy tale, were it not, in its details, so bracingly, bravely contemporary and real."
-Elizabeth Graver, author of The Honey Thief and Awake

"like The Sisterhood of the Traveling Pants for adults. Lots of women out there will want to read this book."
-Library Journal



"That they actually make it, and find long-term relationships along the way, makes for a happy journey, but the power of this three-pronged narrative is the trio's candor regarding the compromises and complications that arise in the process of becoming mothers. Ironically, the anonymous vials of sperm never fulfill their intended purpose, but instead become a symbol of empowerment, giving each woman the green light to let go of bad relationships, find fulfilling new connections, and determine their own destinies. This personal, carefully-recounted tale will resonate with any career woman wondering if it's too late to have it all."
-Publishers Weekly
Book Videos
or
Not Currently Available for Direct Purchase