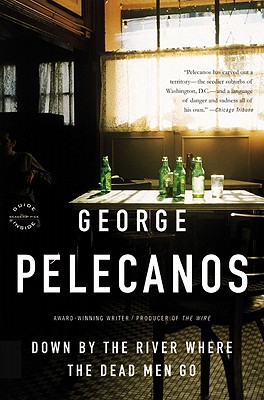 Down by the River Where the Dead Men Go (Paperback)
Back Bay Books, 9780316079648, 250pp.
Publication Date: July 27, 2011
Description
"You already been a punk. Least you can do is go out like a man." Then a dull popping sound and a quiet splash.
In his third appearance in George Pelecanos's acclaimed series, Nick Stefanos has been spending too much time with bad women and bad booze. Which is why he wakes up one blurry morning on the banks of the Anacostia River, hungover and miserable--and now a witness to a murder. With the help of a partner as straight-arrow as Nick is bent, Nick decides to track down the killer, an investigation that leads them through the roughest part of the nation's capital, and into the blackest parts of the human soul.
About the Author
George Pelecanos is the author of several highly praised and bestselling novels, including "The Cut," "What It Was," "The Way Home," "The Turnaround," and "The Night Gardener." He is also an independent-film producer, an essayist, and the recipient of numerous international writing awards. He was a producer and Emmy-nominated writer for "The Wire" and currently writes for the acclaimed HBO series "Treme." He lives in Maryland.
Praise For Down by the River Where the Dead Men Go…
"Pelecanos joins company with James Ellroy, Andrew Vachss and Jack O' Connell in extending the noirest tones of crime fiction and unleashes a lacerating view of urban angst and degradation."--Publishers Weekly

"One of the country's finest writers, no matter the genre."--Chicago Sun-Times

"Mr. Pelecanos. . . is part of a fraternity of writers, including Dennis Lehane and Richard Price, who push the boundaries of crime writing into literary territory, exploring character more deeply than many crime novelists dare, introducing challenging social themes and bucking expectations that everything will come out all right in the end."--Motoko Rich, New York Times

"Few novelists have chronicled urban crime as convincingly as George Pelecanos."--Jeffrey A. Trachtenberg, Wall Street Journal

"George Pelecanos does not write for those seeking a stock crime novel, who like their books conventional, their plots pat and their endings neatly tied up. . . . Pelecanos writes a different kind of book: gritty, disturbing, and unpredictable . . . powerful and compelling."--Miles Corwin, Los Angeles Times Book Review
Advertisement