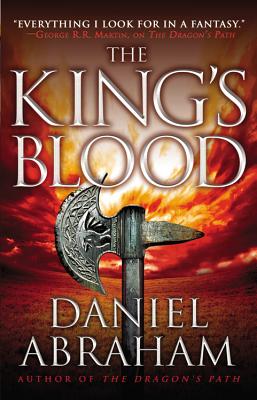 The King's Blood (Paperback)
Orbit, 9780316080774, 517pp.
Publication Date: May 22, 2012
Description
WAR AND MADNESS CAST SHADOWS OVER THE LANDS DRAGONS ONCE RULED. Geder Palliako's star is rising. He is a hero of Antea, protector to the crown prince, and darling of the court. But storms from his past are gathering, and with them, a war that will change everything. Cithrin bel Sarcour founded a powerful bank on stolen wealth, forged papers, and ready blades. Now every move she makes is observed, recorded, and controlled. Unless Cithrin can free herself from her gilded cage, the life she made will be for naught; war may provide just the opportunity she needs. An apostate priest sees the hidden hand behind all: a long-buried secret of the dragon empire threatens everything humanity has built. An age of madness and death approaches, with only a few doomed heroes to stand in its way. The Dagger and the CoinThe Dragon's PathThe King's Blood The Tyrant's LawThe Widow's HouseThe Spider's War Writing as James S. A. Corey (with Ty Franck)
The Expanse (soon to be a major SyFy Channel television series)Leviathan WakesCaliban's WarAbaddon's GateCibola BurnNemesis Games

About the Author
Daniel Abraham is the author of the critically-acclaimed Long Price Quartet. He has been nominated for the Hugo, Nebula, and World Fantasy awards, and won the International Horror Guild award. He also writes as MLN Hanover and (with Ty Franck) James S.A. Corey. He lives in New Mexico.
Praise For The King's Blood…
"Abraham builds on The Dragon's Path to create and sustain a rich, satisfyingly complex epic fantasy." -- Publishers Weekly (Starred Review) on The King's Blood.

"[Daniel] Abraham just keeps getting better and better... [He] belongs in the first rank of today's fantasists."
-George R.R. Martin, New York Times bestselling author of A Game of Thrones

"You have to admire ace storyteller Abraham's skill at building plausible alternate worlds, a trade much practiced, but not often so well, ever since the days of Tolkien and the Shire ... One of the many strengths of Abraham's storytelling is that he allows a little moral ambiguity to curl around the toes of his characters ...
Another trademark romp in the otherworld, and a lot of fun."


-Kirkus Reviews

"Well worthwhile; curl up with this one!"
-RT Book Reviews
Advertisement