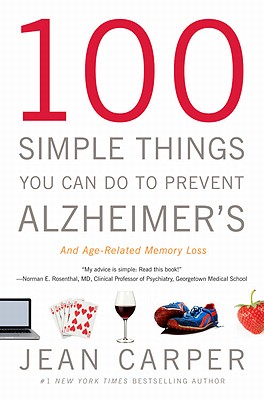 100 Simple Things You Can Do to Prevent Alzheimer's and Age-Related Memory Loss (Paperback)
Little, Brown and Company, 9780316086844, 336pp.
Publication Date: January 6, 2012
Other Editions of This Title:
Digital Audiobook (1/10/2011)
Hardcover (9/20/2010)
Compact Disc, Abridged (9/1/2010)
Paperback (3/1/2011)
Paperback (5/9/2011)
Pre-Recorded Audio Player (10/15/2012)
* Individual store prices may vary.
Description
Most people think there is little or nothing you can do to avoid Alzheimer's. But scientists know this is no longer true. In fact, prominent researchers now say that our best and perhaps only hope of defeating Alzheimer's is to prevent it.

After best-selling author Jean Carper discovered that she had the major susceptibility gene for Alzheimer's, she was determined to find all the latest scientific evidence on how to escape it. She discovered 100 surprisingly simple scientifically tested ways to radically cut the odds of Alzheimer's, memory decline, and other forms of dementia. Did you know that vitamin B 12 helps keep your brain from shrinking? Apple juice mimics a common Alzheimer's drug? Surfing the internet strengthens aging brain cells? Exercise is like Miracle-Gro for your brain? Even a few preventive actions could dramatically change your future. 100 Simple Things You Can Do to Prevent Alzheimer's will change the way you look at Alzheimer's and provide exciting new answers from the frontiers of brain research to help keep you and your family free of this heartbreaking disease.
About the Author
Jean Carper is an award-winning medical journalist and the author of 23 books, including the New York Times bestsellers Food-Your Miracle Medicine, Stop Aging Now!, and Miracle Cures. She is a contributing editor to USA Weekend Magazine, and wrote the magazine's "Eat Smart" column for 14 years. She lives in Washington, D.C., and Florida.



Praise For 100 Simple Things You Can Do to Prevent Alzheimer's and Age-Related Memory Loss…
"Exceptionally good...Buy this book and keep it handy. Even if you only follow a few tips, your body will thank you."—Carol Bradley Bursack, Inforum

"Whether in their 20s or well into retirement, readers will likely feel motivated to do the impossible: beat the approaching epidemic of a disease commonly viewed as hopeless."—Publishers Weekly

"It's about time someone has compiled such an important manual of steps we can and should all take to avoid Alzheimer's. Jean has done a skillful job at delivering accessible tips that are backed in science and still very actionable for those of us interested in preserving our intellect and memory."—Mark Liponis, MD, coauthor of Ultraprevention and author of Ultralongevity

"In her usual science-made-simple approach, Jean Carper gives readers of all ages 100 doable strategies for keeping brains sharp and bodies healthy. I highly recommend reading it--and doing it."—William Sears, MD, author of Prime-Time Health

"A wonderful book that appeals to the lay person, physician and scientist alike, with its beautifully outlined 'what to do' approaches to dealing with the threat of such a frightening disease. It is a must read for all of us."—Brian J. Balin, Ph.D., Professor, Center for Chronic Disorders of Aging, Philadelphia College of Osteopathic Medicine

"In this marvelous book, Jean Carper has done all the leg-work for the reader by basing it on the very recent scientific literature and direct contacts with many Alzheimer's disease researchers. She has a unique and refreshing writing style. I highly recommend this book to anyone wanting to maintain their cognitive abilities during aging and reduce their risk of Alzheimer's-which should be all of us!"—Gary W. Arendash, Ph.D., Research Professor of the Florida Alzheimer's Disease Research Center

"With style and wit Jean Carper has assembled all the simple things that people can do to delay the onset of age-related memory loss, an idea that may sound revolutionary to some, but is all research-based. My advice is simple: Read this book!"—Norman E. Rosenthal, M.D., Clinical Professor of Psychiatry, Georgetown Medical School

"There is a gem of knowledge and insight on every page. Jean Carper brings a rare talent to these pages-she helps the reader see the difference between scientific breakthroughs and passing fads. Most important, this book offers hope-something the reader can do right now to change their future. I strongly recommend this book to anyone who wants to protect their minds as they grow old."—Gary L. Wenk, Ph.D., Professor of Psychology and Neuroscience, Ohio State University, author of Your Brain on Food: How Chemicals Control Your Thoughts and Feelings

"A refreshingly positive view of Alzheimer's disease and what you can do to reduce your risk."—Suzanne Tyas, PhD, Associate Professor of Health Studies and Gerontology and of Psychology, University of Waterloo