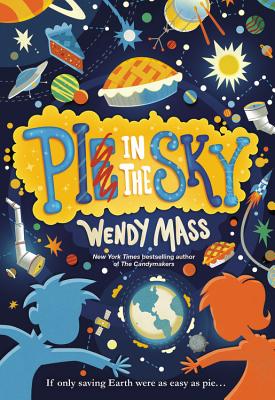 Pi in the Sky (Paperback)
Little, Brown Books for Young Readers, 9780316089173, 272pp.
Publication Date: April 15, 2014
* Individual store prices may vary.
Description
Joss is the seventh son of the Supreme Overlord of the Universe. His older brothers help his dad rule the cosmos, but all Joss gets to do is deliver pies. That's right: pies. Of course, these pies actually hold the secrets of the universe between their buttery crusts, but they're still pies.
Joss is happy to let his older brothers shine. He has plenty to keep his hands full: attempting to improve his bowling score; listening to his best friend, Kal, try (and fail) to play the drums; and exploring his ever-changing home, The Realms. But when Earth suddenly disappears, Joss is tasked with the seemingly impossible job of bringing it back. With the help of Annika, an outspoken girl from Earth, he embarks on the adventure of a lifetime...and learns that the universe is an even stranger place than he'd imagined.
From the New York Times bestselling author of The Candymakers comes a world-hopping tale that leads the reader deep into the heart of the mysteries of time and space. Plus, there's pie.
About the Author
Wendy Mass is the
New York Times
bestselling author of
The Candymakers
,
the ALA Schneider Family Award winner
A Mango-Shaped Space,
Leap Day
,
Jeremy Fink and the Meaning of Life
,
Heaven Looks a Lot Like the Mall,
and
Every Soul a Star
. Wendy lives in
New Jersey
with her husband and their twins. Her website is www.wendymass.com.
Praise For Pi in the Sky…
"Finally, confirmation of what I've long suspected, that pie is the secret of life. Wendy Mass has written a wonderfully wacky book that will leave you hungry for more."—Pseudonymous Bosch, author of The Name of This Book Is Secret

* "Full of fascinating science and clever humor, Mass's story shines as bright as the stars of Joss's universe. A high-stakes extraterrestrial adventure that's as exciting as it is fun."—Publishers Weekly, starred review

"Could be a Hitchhiker's Guide to the Galaxy for kids...Science and absurdity frolic together to gleeful effect."—Kirkus

"The humorous banter and interesting physics factoids keep readers entertained...Mass's latest [is] a unique, mind-stretching title for science-fiction lovers, and the entertaining high jinks and evolving relationship between Joss and Annika give it an even wider appeal."—School Library Journal

"Wendy Mass is a treasure. Read her books and you'll be the richer for it."—Trenton Lee Stewart, author of The Mysterious Benedict Society