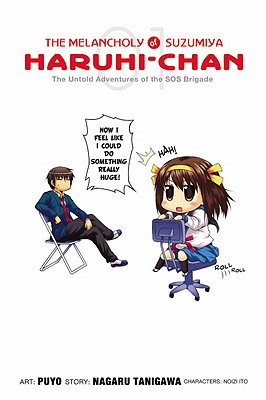 The Melancholy of Suzumiya Haruhi-chan, Vol. 1 (Paperback)
Yen Press, 9780316089579, 160pp.
Publication Date: October 26, 2010
Other Editions of This Title:
Paperback (8/16/2011)
Paperback (12/15/2015)
Paperback (1/20/2015)
Paperback (11/22/2011)
Paperback (11/20/2012)
Paperback (9/24/2013)
Paperback (10/28/2014)
Paperback (3/27/2012)
Paperback (12/19/2017)
* Individual store prices may vary.
Description
If you thought the SOS Brigade's adventures couldn't get any more outrageous...you've never met Haruhi-chan! Nagato has gone otaku! Asakura is her pint-size prisoner/plaything! Mikuru's so cute she turns into a sheep! You'll find plenty of gags and guffaws as Haruhi dives into the world of four-panel and short comics!!
About the Author
Nagaru Tanigawa is a Japanese author best known for The Melancholy of Haruhi Suzumiya for which he won the grand prize at the eighth annual Sneaker Awards. Tanigawa is currently working on the tenth novel about Haruhi Suzumiya and the S.O.S. Brigade.