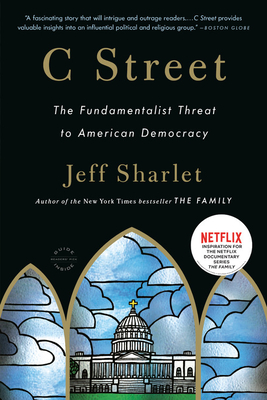 C Street
The Fundamentalist Threat to American Democracy
Paperback

* Individual store prices may vary.
Other Editions of This Title:
Digital Audiobook (9/26/2010)
Paperback, Large Print (9/27/2010)
CD-Audio (9/27/2010)
Description
C Street - where piety, politics, and corruption meet Jeff Sharlet is the only journalist to have reported from inside the C Street House, the Fellowship residence known simply by its Washington, DC address. The house has lately been the scene of notorious political scandal, but more crucially it is home to efforts to transform the very fabric of American democracy. And now, after laying bare its tenants' past in The Family, Sharlet reports from deep within fundamentalism in today's world, revealing that the previous efforts of religious fundamentalists in America pale in comparison with their long-term ambitions.

When Barack Obama entered the White House, headlines declared the age of culture wars over. In C Street, Sharlet shows why these conflicts endure and why they matter now - from the sensationalism of Washington sex scandals to fundamentalism's long shadow in Africa, where Ugandan culture warriors determined to eradicate homosexuality have set genocide on simmer.

We've reached a point where piety and corruption are not at odds but one and the same. Reporting with exclusive sources and explosive documents from C Street, the war on gays in Uganda, and the battle for the soul of America's armed forces - waged by a 15,000-strong movement of officers intent on "reclaiming territory for Christ in the military"

Sharlet reveals not the last gasp of old-time religion but the new front lines of fundamentalism.
Praise For C Street: The Fundamentalist Threat to American Democracy…
"A fascinating story that will intrigue and outrage readers...C Street provides valuable insights into an influential political and religious group."—Boston Globe

"Sharlet's firsthand reporting is brilliant, even courageous."—John G. Turner, Washington Post

"A comprehensive look at the Family's quiet and carefully obscured influence."—Scott Horton, Harper's

"At once a gripping political thriller, a masterpiece of investigative journalism, and a timely call to arms, C Street reveals all that can be hidden within an innocuous Washington address. Jeff Sharlet delivers a warning that the blurring of the line between church and state is both an urgent local problem and a matter of global concern."—Peter Manseau, author of Rag and Bone: A Journey Among the World's Holy Dead and Songs for the Butcher's Daughter
Back Bay Books, 9780316091060, 368pp.
Publication Date: June 9, 2011
About the Author
Jeff Sharlet, New York Times bestselling author of The Family, is a contributing editor for Harper's and Rolling Stone, the coauthor, with Peter Manseau, of Killing the Buddha, and the editor of TheRevealer.org. He has written for Mother Jones, the Washington Post, The Nation, The New Republic, and many other magazines and newspapers, and he has commented on religion and politics for NBC Nightly News, The Daily Show, The Rachel Maddow Show, Fresh Air, Morning Edition, and more. He lives in Cambridge, Massachusetts.