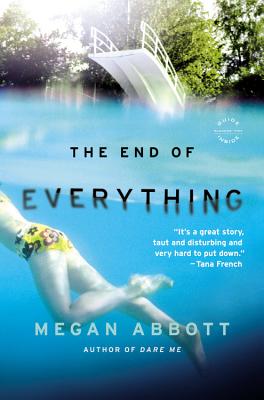 The End of Everything
A Novel
Paperback

* Individual store prices may vary.
Other Editions of This Title:
Digital Audiobook (7/6/2011)
Description
From the bestselling author of Give Me Your Hand and You Will Know Me comes this darkly compelling novel about a teenage girl who disappears during a 1980s suburban summer.

Thirteen-year old Lizzie Hood and her next door neighbor Evie Verver are inseparable. They are best friends who swap bathing suits and field-hockey sticks, and share everything that's happened to them. Together they live in the shadow of Evie's glamorous older sister Dusty, who provides a window on the exotic, intoxicating possibilities of their own teenage horizons. To Lizzie, the Verver household, presided over by Evie's big-hearted father, is the world's most perfect place.

And then, one afternoon, Evie disappears. The only clue: a maroon sedan Lizzie spotted driving past the two girls earlier in the day. As a rabid, giddy panic spreads through the Midwestern suburban community, everyone looks to Lizzie for answers. Was Evie unhappy, troubled, upset? Had she mentioned being followed? Would she have gotten into the car of a stranger?

Lizzie takes up her own furtive pursuit of the truth, prowling nights through backyards, peering through windows, pushing herself to the dark center of Evie's world. Haunted by dreams of her lost friend and titillated by her own new power at the center of the disappearance, Lizzie uncovers secrets and lies that make her wonder if she knew her best friend at all.
Praise For The End of Everything: A Novel…
"Stirring...[a] storytelling feat."
—
Susannah Meadows, The New York Times
"Abbott...evoke[s] the furtive blossoming of adolescent sexuality and the murk that lies beneath the ice cream shops and sprinklered lawns of '80s suburbia...A haunting story."
—
Leah Greenblatt, Entertainment Weekly
"Noir triumph...In wonderfully descriptive prose, Abbott weaves a tale of intrigue...It will haunt you as only a modern-day
Lolita
can."—
Carole Mallory, Huffington Post
"The writing is anything but typical, as Abbott's inventive use of language to build imagery reads more like poetry than prose...The story veers from the beaten track as well, deftly skirting the familiar 'adolescent girl as victim' scenario and exploring, instead, the power games that young women engage in with much older men...games in which there are unwritten rules and exquisite danger for all who play."
—
Hallie Ephron, The Boston Globe
"A sensitive, unconventional tale about the infinitely complex mystery of sexual awakening that lingers in the mind long after the book is finished."
—
Laura Wilson, The Guardian (UK)
"This is a gripping and disturbing novel, a fever dream of adolescent desire and adult complicity. Megan Abbott writes with total authority and an almost desperate intensity; her story grabs hold of you and won't let go."-Tom Perrotta, author of
Little Children
—
-
"With
The End of Everything
, Megan Abbott takes an insightful, sensuous coming-of-age tale and ties it to a freight train of a mystery. The result is a novel that's bold, unnerving, poignant and full of yearning-like that first teenage year itself."-Gillian Flynn, bestselling author of
Sharp Objects
and
Dark Places
—
-
"Megan Abbott captures the essence of being thirteen - all its magic, its intensity and confusion, its headlong power and its terrible vulnerability - and wraps it in a story that's taut, unflinching and very hard to put down."-Tana French, author of
In the Woods, The Likeness,
and
Faithful Place
—
-
"Megan Abbott: Superb storyteller, film noir scholar, deconstructionist suffused with a true artist's passion. Poised to ascend to the top rung of crime writing and quite possibly something beyond."--James Ellroy
—
-
Back Bay Books, 9780316097826, 272pp.
Publication Date: July 3, 2012
About the Author
Megan Abbott is the award-winning author of nine novels, including You Will Know Me, The Fever, Dare Me, and The End of Everything. She received her PhD in literature from New York University. Her writing has appeared in the New York Times, the Wall Street Journal, the Los Angeles Times Magazine, The Guardian, and The Believer. Currently, she is a staff writer on HBO's David Simon show, The Deuce. She lives in New York City.