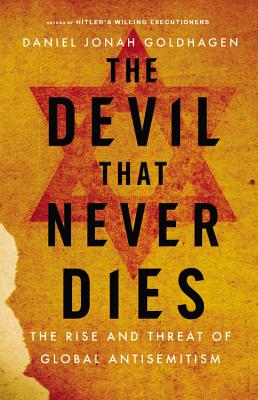 The Devil That Never Dies (Hardcover)
The Rise and Threat of Global Antisemitism
Little Brown and Company, 9780316097871, 485pp.
Publication Date: September 3, 2013
* Individual store prices may vary.
Description
A groundbreaking--and terrifying--examination of the widespread resurgence of antisemitism in the 21st century, by the prize-winning and #1 internationally bestselling author of Hitler's Willing Executioners. Antisemitism never went away, but since the turn of the century it has multiplied beyond what anyone would have predicted. It is openly spread by intellectuals, politicians and religious leaders in Europe, Asia, the Arab world, America and Africa and supported by hundreds of millions more. Indeed, today antisemitism is stronger than any time since the Holocaust. In THE DEVIL THAT NEVER DIES, Daniel Jonah Goldhagen reveals the unprecedented, global form of this age-old hatred; its strategic use by states; its powerful appeal to individuals and groups; and how technology has fueled the flames that had been smoldering prior to the millennium. A remarkable work of intellectual brilliance, moral stature, and urgent alarm, THE DEVIL THAT NEVER DIES is destined to be one of the most provocative and talked-about books of the year.
About the Author
Daniel Jonah Goldhagen, a former professor at Harvard University, is the author of the #1 international bestseller Hitler's Willing Executioners, A Moral Reckoning, and Worse than War. His writing has appeared in the New York Times, Los Angeles Times, Washington Post, New Republic, and newspapers around the world.
Praise For The Devil That Never Dies: The Rise and Threat of Global Antisemitism…
"No other writer has held mass murderers, deniers of truth, and propagators of hate to a higher standard of moral accountability than Daniel Jonah Goldhagen....His latest, The Devil that Never Dies, doubtlessly will shatter the way people think about anti-Semitism---both in its past incarnations and present day existence....When the world's manmade atrocities, moral failures, and blatant hypocrisies occur, he has proven himself time and again to be a righteous chronicler on behalf of the persecute and the dead."
---Thane Rosenbaum, Huffington Post

"A frightening exposition on how anti-Semitism has become a global phenomenon....Devil is bursting with information and insight."
---Neal Gendler, American Jewish World

"Former Harvard professor Goldhagen comes out swinging in this frontal assault on anti-Semitism and its practitioners and does not pause for breath until the final page.... A frightening photograph of a mutable demon so many fail to recognize and continue to embrace."
--- Kirkus Reviews

"An important new book....A chilling explication of the explosion of anti-Semitism in the last two decades, fueled by the Internet and other modern means of global communications, as well as a sophisticated analysis of the inter-related international institutions and political trends that underpin it. It is essential reading."
--- Rick Richman, Commentary

"Effective and disturbing....Rhetorically and sometimes physically violent anti-Semitism over the past dozen years or so is shocking in part because it does not seem to shock."
--- Jeffrey Goldberg, New York Times

"Explosive....Goldhagen's main points are hard to contradict."
--- David Mikics, Tablet Magazine

"Daniel Goldhagen's new book hits hard. This tour de force makes a chillingly compelling case that global anti-Semitism on the rise....Goldhagen's material can overwhelm and be tough going for the faint of heart. Yet his passionate compulsion to make his case beyond a shadow of a doubt is understandable, and he does so with brilliance....In The Devil That Never Dies, he does everything within his formidable intellectual power to confront anti-Semitism and make us aware that this devil is real."
--- Sharon Rosen Leib, San Diego Jewish Journal

"Important and timely....The dangers Goldhagen outlines in this brilliant work should sound a clarion call for governmental and societal intervention."
---Benjamin Weinthal, Jerusalem Post

"An in-depth look at anti-Semitism around the world."
--- Vox Tablet
or
Not Currently Available for Direct Purchase