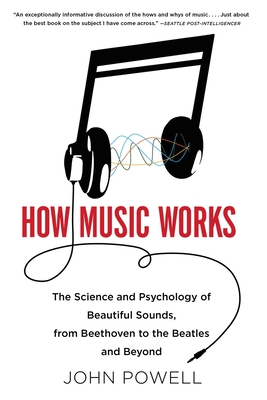 How Music Works (Paperback)
The Science and Psychology of Beautiful Sounds, from Beethoven to the Beatles and Beyond
Little, Brown and Company, 9780316098311, 272pp.
Publication Date: December 2, 2011
Other Editions of This Title:
Digital Audiobook (11/23/2010)
Compact Disc (5/24/2016)
Hardcover (11/3/2010)
* Individual store prices may vary.
Description
John Powell, a scientist and musician, answers questions about harmony, timbre, keys, chords, loudness, musical composition, and much more in this fascinating guide to what music is and how exactly it works.
What makes a musical note different from any other sound? How can you tell if you have perfect pitch? Why do 10 violins sound only twice as loud as one? Do your Bob Dylan albums sound better on CD or vinyl?
In a clear, accessible, and engaging voice, Powell explores the science and psychology behind music. The perfect gift for music lovers everywhere.
This edition also includes a CD of examples and exercises from the book.

About the Author
John Powell holds a PhD in physics from Imperial College at London University. He has taught physics at the University of Nottingham and the University of Lulea in Sweden. In 2003, he earned a master's degree in music composition from the University of Sheffield in Great Britain.
Praise For How Music Works: The Science and Psychology of Beautiful Sounds, from Beethoven to the Beatles and Beyond…
"By reading Powell's book we can gain a more solid knowledge of the foundations of music and therefore be better able to appreciate it."—Amanda Mark, New York Journal of Books

"Any readers whose love of music has somehow not led them to explore the technical side before will surely find the result a thoroughly accessible, and occasionally revelatory, primer."—James Walton, The Spectator

"An exceptionally informative discussion of the hows and whys of music...The presentation is clear and logical-even for a layman like myself. Yet it is never pandering, or overly simplified. In short, this is just about the best book on the subject I have come across."—Greg Barbrick, Seattle-Post Intelligencer

"In this distinctive combination of scientific treatise and laugh-out-loud commentary, composer and physicist Powell...has carved out an intriguing niche by using humor to enliven what could have been an otherwise dry introduction to acoustics...readers ... should glean some useful background for music study while simultaneously being entertained."—Barry Zaslow, Library Journal

"The author...uses easy-to-follow, conversational language to lead the reader into the science of music...It is amazing that after a few hours of Powell's explanations, a musical novice (like me) can begin to read music, which is written in a language that is as foreign to most of us as Sanskrit."—Phillip Manning, Science Book News