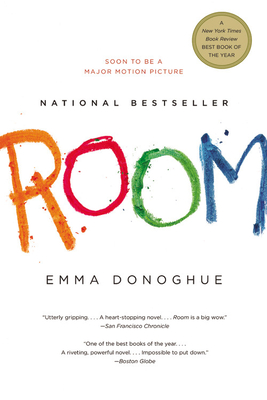 Room (Paperback)
Back Bay Books, 9780316098328, 321pp.
Publication Date: May 18, 2011
* Individual store prices may vary.
Description
Held captive for years in a small shed, a woman and her precocious young son finally gain their freedom, and the boy experiences the outside world for the first time.
Inspiration for the MAJOR MOTION PICTURE starring Academy Award winner Brie Larson To five-year-old-Jack, Room is the world. . . . It's where he was born, it's where he and his Ma eat and sleep and play and learn. At night, his Ma shuts him safely in the wardrobe, where he is meant to be asleep when Old Nick visits. Room is home to Jack, but to Ma it's the prison where she has been held for seven years. Through her fierce love for her son, she has created a life for him in this eleven-by-eleven-foot space. But with Jack's curiosity building alongside her own desperation, she knows that Room cannot contain either much longer. Room is a tale at once shocking, riveting, exhilarating--a story of unconquerable love in harrowing circumstances, and of the diamond-hard bond between a mother and her child.
About the Author
Born in Dublin in 1969, Emma Donoghue is an Irish emigrant twice over: she spent eight years in Cambridge doing a PhD in eighteenth-century literature before moving to London, Ontario, where she lives with her partner and their two children. She also migrates between genres, writing literary history, biography, stage and radio plays as well as fairy tales and short stories. She is best known for her novels, which range from the historical (Slammerkin, Life Mask, Landing, The Sealed Letter) to the contemporary (Stir-Fry, Hood, Landing). Her international bestseller Room was a New York Times Best Book of 2010 and was a finalist for the Man Booker, Commonwealth, and Orange Prizes. For more information, visit www.emmadonoghue.com.
Praise For Room…
"Emma Donoghue's writing is superb alchemy, changing innocence into horror and horror into tenderness. Room is a book to read in one sitting. When it's over you look up: the world looks the same but you are somehow different and that feeling lingers for days."
-Audrey Niffenegger, author of The Time Traveler's Wife and Her Fearful Symmetry

"I loved Room. Such incredible imagination, and dazzling use of language. And with all this, an entirely credible, endearing little boy. It's unlike anything I've ever read before."
-Anita Shreve, author of The Pilot's Wife and A Change in Altitude

"Room is that rarest of entities, an entirely original work of art. I mean it as the highest possible praise when I tell you that I can't compare it to any other book. Suffice to say that it's potent, darkly beautiful, and revelatory."
-Michael Cunningham, author of The Hours and By Nightfall

"Powerful.... Seen entirely through Jack's eyes and childlike perceptions, the developments in this novel--there are enough plot twists to provide a dramatic arc of breathtaking suspense--are astonishing.... Donoghue brilliantly portrays the psyche of a child raised in captivity...will keep readers rapt."
-Publishers Weekly

"a novel so disturbing that we defy you to stop thinking about it, days later"
-O Magazine

"a bravura performance"
-ELLE

"Only a handful of authors have ever known how to get inside the mind of a child and then get what they know on paper. Henry James, Mark Twain, William Faulkner, and, more recently, Jean Stafford and Eric Kraft come to mind, and after that one gropes for names. But now they have company. Emma Donoghue's latest novel, Room, is narrated by a 5-year-old boy so real you could swear he was sitting right beside you.... Room is so beautifully contrived that it never once seems contrived. But be warned: once you enter, you'll be Donoghue's willing prisoner right down to the last page."
-Newsweek

"one of the most affecting and subtly profound novels of the year"
-The Washington Post

"a riveting, powerful novel.... Donoghue's inventive storytelling is flawless and absorbing. She has a fantastic ability to build tension in scenes where most of the action takes place in the 12-by-12 room where her central characters reside. Her writing has pulse-pounding sequences that cause the reader's eyes to race over the pages to find out what happens next.... Room is likely to haunt readers for days, if not longer. It is, hands down, one of the best books of the year."
-The Boston Globe

"remarkable.... Jack's voice is one of the pure triumphs of the novel: in him, she has invented a child narrator who is one of the most engaging in years - his voice so pervasive I could hear him chatting away during the day when I wasn't reading the book.... This is a truly memorable novel, one that can be read through myriad lenses - psychological, sociological, political. It presents an utterly unique way to talk about love, all the while giving us a fresh, expansive eye on the world in which we live."
-The New York Times Book Review
Why do you think the entire book is told in Jack's voice? Do you think it is effective?
What are some of the ways in which Jack's development has been stunted by growing up in Room? How has he benefited?
If you were Ma, what would you miss most about the outside world?
What would you do differently if you were Jack's parent? Would you tell Jack about the outside world from the start?
If Ma had never given birth to Jack, what would her situation in Room be like?
What would you ask for, for Sundaytreat, if you were Jack? If you were Ma?
Describe the dynamic between Old Nick and Ma. Why does the author choose not to tell us Old Nick's story?
What does joining the outside world do to Jack? To Ma?
What role do you think the media play in the novel?
In a similar situation, how would you teach a child the difference between the real world and what they watch on television?
Why are we so fascinated by stories of long-term confinement?
What were you most affected by in the novel?
Coverage from NPR