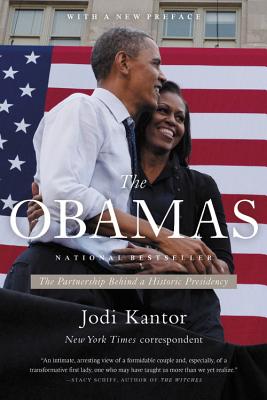 The Obamas (Paperback)
Back Bay Books, 9780316098762, 400pp.
Publication Date: August 7, 2012
Other Editions of This Title:
Digital Audiobook (1/9/2012)
Hardcover (1/10/2012)
CD-Audio (1/31/2012)
Hardcover, Large Print (1/10/2012)
Paperback (1/1/2012)
Pre-Recorded Audio Player (1/10/2012)
* Individual store prices may vary.
Description
The "insightful and evocative" (Chicago Tribune) story of Barack and Michelle Obama, from the New York Times correspondent and author of She Said.
When Barack Obama won the 2008 presidential election, he also won a long-running debate with his wife Michelle. Contrary to her fears, politics now seemed like a worthwhile, even noble pursuit. Together they planned a White House life that would be as normal and sane as possible.

Then they moved in.

In the Obamas, Jodi Kantor takes us deep inside the White House as they try to grapple with their new roles, change the country, raise children, maintain friendships, and figure out what it means to be the first black President and First Lady. Filled with riveting detail and insight into their partnership, emotions and personalities, and written with a keen eye for the ironies of public life, The Obamas is an intimate portrait that will surprise even readers who thought they knew the President and First Lady.
"The first book about the Obama presidency to give Michelle Obama her due." --New York Times
About the Author
Jodi Kantor began her journalism career by dropping out of Harvard Law School to join Slate.com in 1998. Four years later, she became the Arts & Leisure editor of the New York Times. She has been covering the Obamas since 2007, and though she is a Washington correspondent for the newspaper, she lives in Brooklyn with her family. Jodi's reporting with Meghan Twohey on Harvey Weinstein won the Pulitzer Prize for Public Service. She can be followed at twitter.com/jodikantor.
Praise For The Obamas…
"'The strengths and challenges of our marriage don't change because we move to a different address,' Michelle Obama told Jodi Kantor early on. How though did those strengths and challenges evolve in the White House? What did they signal to the rest of the country and, how did they shape policy? An intimate, arresting view of a formidable couple and, especially, of a transformative First Lady, one who may have taught us more than we yet realize."
—Stacy Schiff, author of The Witches


"A meticulous reporter, Kantor is attuned to the nuance of small gestures, the import of unspoken truths. She knows that every strong marriage, including the one now in the White House, has its complexities and disappointments. Kantor also--and this is a key--has a high regard for women, which is why hers is the first book about the Obama presidency to give Michelle Obama her due. In the process we learn a great deal about the talented and introverted loner who married her, and how his wife has influenced him as a president...Kantor retires wooden stereotypes of the political wife as prop or a problem and instead explores what it means to be a modern first lady, one with her own opinions and an expectation that she will be heard."
—Connie Schultz, New York Times


"The Obamas is among the very best books on this White House. It's a serious, thoughtful book on the modern presidency in general."
—Ezra Klein


"Energetically reported.... Kantor nails her story.... We political gluttons will lick the spoon clean."
—David Remnick, The New Yorker


"A portrait of a remarkable marriage.... Kantor's writing is insightful and evocative, rich with detail...[and her] reporting rings true--and considering the administration's insistence on presenting a unified front, it is a considerable achievement."
—Kerry Luft, Chicago Tribune