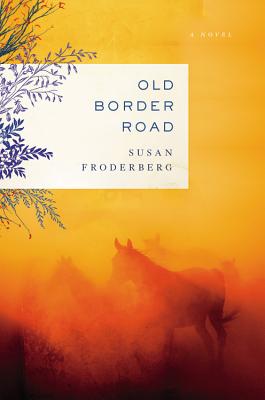 Old Border Road (Hardcover)
Little, Brown and Company, 9780316098779, 304pp.
Publication Date: December 1, 2010
* Individual store prices may vary.
or
Not Currently Available for Direct Purchase
Description
Katherine is 17, living alone in the beautiful, desolate landscape of southern Arizona. Her mother is feckless, her father busy with his new family. Meeting Son, the scion of a local rancher, seems like deliverance. They marry and live as a family in his parents' venerable adobe house, but it soon becomes clear that Son is a man who, as his father says, has a "young heart near withered beneath the breastbone."

Katherine must find her own way during a dangerous months-long drought, when everything seems to be disintegrating around her. Susan Froderberg's incantatory language--and her deep knowledge of both the complexities of a small, deeply-rooted place and the human heart--make OLD BORDER ROAD soar.
About the Author
Susan Froderberg was born in Washington State and spent seven years, starting in high school, in Arizona. She worked for several years as a critical care nurse in Seattle before moving East to study medical ethics and philosophy at Columbia University, where she received her PhD in philosophy. She currently lives with her husband in New York City. OLD BORDER ROAD is her first book.
Praise For Old Border Road…
"I read Susan Froderberg's fine and beguiling first novel a little bit, and a little bit more, and suddenly found myself in a beautiful and heartbreaking swirl of story and life and language and could not stop. The world therein is raw and urgent and yet adorned with element: burning and cooling, light and dark, droughty weather, delicate seeds greening, our perilous existence, our enduring sufferance."

--Robert Olmstead, author of Coal Black Horse (winner of the Chicago Tribune Heartland Prize and a Borders Original Voices selection) and Far Bright Star

"In Old Border Road, Susan Froderberg's remarkable feat of literary ventriloquism gives us two inventive and haunting voices to remember. One is that of Katherine, the young ranch bride striving for the language to fit her predicament; the other is the author's own, a fresh dialect of talent on the fiction scene."
-Ivan Doig, National Book Award winning author of the novel, Work Song

"Told in a vernacular that mixes biblical grandiosity and down-home grit....A Southwest Gothic debut that fans of Cormac McCarthy should adore."
-Kirkus (starred review)

"Froderberg's novel is deliciously poetic, surprisingly timeless--though set in the present day--and undeniably western."
-Booklist

"Froderberg's shimmering debut set against the dusty, barren backdrop of the American southwest explores the joys and consequences of young love."
-Publishers Weekly

"The rural Arizona landscape echoes in every word of the sparse, beautiful prose....An exciting new writer to watch."
-Rebecca Shapiro, BookPage

"Ms. Froderberg superbly draws on the Sonora Desert's singular features to highlight Katherine's changing emotions. Her joyful honeymoon is set in a mountain lush with 'blue spruce, dwarf cedar, juniper'; but her marriage deteriorates as the heat wave 'drives desert rodents and millipedes to hole in the earth, singes wings of monarchs, silences chickadees, sends cacti into dormancy, has every animal panting.'...This stark and convincing portrait of Katherine's maturing from a 'lovestruck girl' to a self-reliant woman is captured in a splendor of naturalistic detail.

"Katherine's coming-of-age story is given additional dimensions by the background drama of the drought and the need to provide water to an expanding desert population....The hard lesson of Old Border Road is that there are endless enticements that lead men to dishonor."
-Sam Sacks, The Wall Street Journal

"This remarkable debut novel, the story of a girl, begins with an adobe house and a road that runs south to north....Susan Froderberg keeps circling back to beginnings...she starts Katherine's new life again and again, dashing hopes, revealing the meanness in Son, and the difficulty of making a living from the dry earth."
-Susan Salter Reynolds, Los Angeles Times

"Froderberg is truly Cormac McCarthy's literary offspring, echoing his hot, haunting brand of southwest essence, desert landscape, and gothic narrative elixir....Although set in contemporary times, there is a timeless quality about Old Border Road.... I was exceptionally moved when I came to the last line of the story, a sentence that touched me with its purity, subtlety, and pith."
-Betsey Van Horn, MostlyFiction.com

"This debut novel is a like a big budget western with the set-design Oscar in the bag. Everything looks authentic ....Ms. Froderberg isn't one to let up on the intensity; the weight of her words can feel biblical."
-Susannah Meadows, The New York Times

"This simple story is beautifully told. It takes place in a distinct landscape, alive with intense color, dense texture, and sharp sound....Froderberg writes movingly of the haze of happiness that is the honeymoon. 'It is rapturous and ordinary, detailed and blurry, seeming to go on and on for a long time, and it is too soon over in the way all time can be.' More moving is her description of how time moves later, after the betrayals. 'Days and nights go by, regardless. The days are but a form to prop us, a stay to prevent our undoing, the nights but a measure of distance and passing.'"
-Barbara Fisher, The Boston Globe

"Susan Froderberg's Old Border Road is a woman-finding-her-voice novel, but with none of the treacle or tropes of the genre. Froderberg writes with an elegance and originality that captivates....The story has heart, perhaps because in Katherine we find a character to rally behind without feeling as if we've been manipulated into doing so....She is spirited but humble, fallible but ultimately triumphant."
-Emily H. Freeman, The Minneapolis Star Tribune

"This is a Western transformed by its focus on a young woman...Froderberg's narrator, 17-year-old Katherine, has a raw poetic voice that makes the tale an arresting incantation of longing and regret....[She] has written a story thick with atmosphere...a series of emotionally intense, impressionistic scenes that seem fraught with doom....Alluring characters fade in and out of the foreground...Almost the entire story takes place during the drought...and Froderberg displays a limitless capacity for describing its effects....It's good to be reminded again that this classic American form is no one-trick pony; it's still evolving, still turning those sepia myths into challenging new fiction."
-Ron Charles, The Washington Post

"Prose reminiscent of Faulkner and Stegner."
-The Readers' Prize jury, Elle

"Old Border Road fills some gaps in the Cormac McCarthy School of Writing with Froderberg's plucky young female narrator....The novel's artful language is beguiling."
-Vikas Turakhia, The Cleveland Plain Dealer

"I especially like the energy and cadences of the sentences in Old Border Road. The book catapults forward in this fearless and honest voice. It's Katherine's life story told her way and she is one of the most engaging narrators I've come across in a long time....And Katherine is as good a listener as she is a teller."
-Peter Orner, Granta Online, "Best Books of 2010"

"Old Border Road isn't a western by an formal definition of the term, but Susan Froderberg builds on those old tropes to tell a mournful story of men and women scraping by on America's arid frontier....In many ways, it's a world that seems closer to the 19th century than the 21st, and...this is a Western transformed by its focus on a young woman....Katherine has a raw poetic voice that makes the tale an arresting incantation of longing and regret....This is a novel that teaches you how to read it....The effect is often moving and evocative....It's good to be reminded again that this classic American form is no one-trick pony; it's still evolving, still turning those sepia myths into challenging new fiction."
-Ron Charles, The Washington Post



"A sunbaked exploration of love and pain in the American Southwest, charts the turbulent ups and downs of a marriage."
-Entertainment Weekly

"Employing a dreamy stream of consciousness evocative of Virginia Woolf, this debut novel conjures a 17-year-old newlywed from Arizona who realizes that her husband doesn't nearly live up to her expectations."
-Ms. Magazine, "Great Reads for Winter"

"Set against a stifling drought, events take on their own slow-burning heat. . . .Froderberg's writing occasionally achieves the sublime."
-The New Yorker

"Susan Froderberg uses striking, poetic language to convey the parched landscape and internal stagnation...The spellbinding language proves to be the point of Old Border Road, a conjuring of the Old West through the lens of modern times, with uncommon and wonderful landscape and flora terms...sprinkled through the narrative to bring this dreamscape to life."
-Jenny Shank, New West
Advertisement