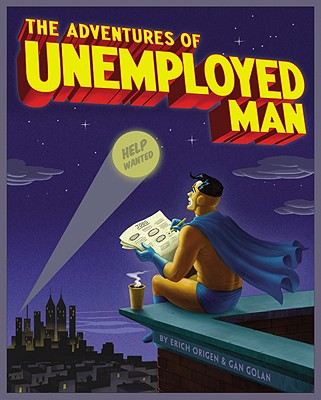 The Adventures of Unemployed Man (Paperback)
Little, Brown and Company, 9780316098823, 80pp.
Publication Date: October 1, 2010
* Individual store prices may vary.
Description
MAIN STREET, USA-Against incredible odds, jobless crusader UNEMPLOYED MAN and his sidekick PLAN B embark on a heroic search for work-and quickly find themselves waging an epic battle against The Just Us League, a dastardly group of supervillains including THE HUMAN RESOURCE, TOXIC DEBT BLOB, PINK SLIP and THE INVISIBLE HAND.

Experience this action-packed story in THE ADVENTURES OF UNEMPLOYED MAN-a fearless, brilliant, and provocative book that ASTOUNDS with incisive wit and AMAZES with stunning insights into the desperate situation so many heroes find themselves in today.

A new supergroup of down-but-not-out heroes has emerged from the economic crisis, including perpetual grad student MASTER OF DEGREES, fix-it-with-tape DUCTO, pain-shrinking therapist GOOD GRIEF, checkbook unbalancer ZILCH, shadow worker FANTASMA, and WONDER MOTHER, who built her invisible jet from pieces of the glass ceiling.

These heroes have enlisted the help of Erich Origen and Gan Golan, the dynamic duo behind the New York Times bestseller GOODNIGHT BUSH. Together they tell the story of our intrepid heroes' climactic clash with the self-interested villains who dwell in the Hall of Just Us, devising sinister plots that threaten the entire world.

This richly illustrated book is a parody of classic superhero comics from the Golden Age to the present day-and a brilliant dissection of our current economic meltdown. It features dazzling artwork by such comics legends as Ramona Fradon, Rick Veitch, Michael Netzer, Terry Beatty, Josef Rubenstein, Benton Jew, Thomas Yeates, Shawn Martinbrough, Clem Robins, Tom Orzechowski, Thomas Mauer and Lee Loughridge.
About the Author
Erich Origen and Gan Golan are writers and artists residing in the San Francisco Bay Area.
Praise For The Adventures of Unemployed Man…
"An absurdly funny and very smart take on the roots and the effects of the recession...the authors sneak in "fantastic facts" about the economy, but do so without getting didactic."
-San Francisco Chronicle

"The parody of classic superhero comics exposes, with laugh-out-loud yet sophisticated wit, the desperate situation many Americans find themselves in today."
-USA Today

"Hilarious, clever, very relevant, and remarkably insightful and thought-provoking."
-Time.com

"Societal woes are deftly handled...The Adventures of Unemployed Man is a satirical look at politics, the economy and superheroes-though not necessarily in that order."
-New York Times

"Crammed with clever puns, ingeniously illustrated and garnished with trenchant social commentary, this is surely the funniest economic primer ever written."
-Salon.com

"The Adventures of Unemployed Man is a furious, fearless, Swiftian kind of a book that - to slip into comic-strip speak just for a moment-ASTOUNDS with its wit, and AMAZES with its perspicacity. It should be read by everyone: by the forgotten, hardworking heroes of our desperate economy, who must toil increasingly hard merely to keep the wolf from the door, but also by its villains, who caused all the trouble in the first place. This book is so good it might cause a rare outbreak of shame among the ruling classes..."
-The Guardian

"An openly political, satiric graphic novella that seems ripped from today's cable-TV headlines."
-Fort Worth Star-Telegram

"The Adventures of Unemployed Man is a perfect assessment of the economic difficulties in which many of us find ourselves....the book is both lovingly reminiscent of the comic book circa 1975 and a searing parody of the form."
-Popmatter.com
Book Videos
or
Not Currently Available for Direct Purchase