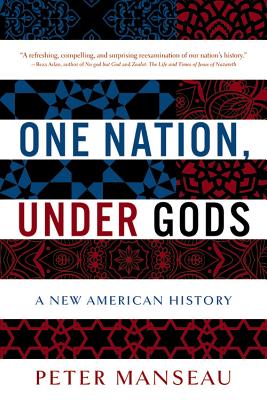 One Nation, Under Gods
A New American History
Paperback

* Individual store prices may vary.
Other Editions of This Title:
Digital Audiobook (1/26/2015)
Hardcover (1/27/2015)
Description
A groundbreaking new look at the story of America.

At the heart of the nation's spiritual history are audacious and often violent scenes. But the Puritans and the shining city on the hill give us just one way to understand the United States. Rather than recite American history from a Christian vantage point, Peter Manseau proves that what really happened is worth a close, fresh look.

Thomas Jefferson himself collected books on all religions and required that the brand new Library of Congress take his books, since Americans needed to consider the "twenty gods or no god" he famously noted were revered by his neighbors.

Looking at the Americans who believed in these gods, Manseau fills in America's story of itself, from the persecuted "witches" at Salem and who they really were, to the persecuted Buddhists in WWII California, from spirituality and cults in the '60s to the recent presidential election where both candidates were for the first time non-traditional Christians. One Nation, Under Gods shows how much more there is to the history we tell ourselves, right back to the country's earliest days. Dazzling in its scope and sweep, it is an American history unlike any you've read.
Praise For One Nation, Under Gods: A New American History…
Praise for ONE NATION, UNDER GODS

"Subversive and much-needed...[a] tour de force. A thorough reimagining of our nation's religions.... Engagingly written, with a historian's eye for detail and a novelist's sense of character and timing, this history from another perspective reexamines familiar tales and introduces fascinating counternarratives."—Publishers Weekly (starred review)

"The United States is arguably the most religiously diverse nation in the world. Peter Manseau shows how this has always been the case. One Nation, Under Gods is a refreshing, compelling, and surprising reexamination of our nation's history that puts lie to the oft-quoted idea that America was founded as 'a Christian nation.'"—Reza Aslan, author of No god but God and Zealot: The Life and Times of Jesus of Nazareth

"Accessible and insightful prose... A richer, more complex, and compelling viewpoint that is reminiscent of Howard Zinn's People's History of the United States... This significant and timely work is important for those who wish to understand the complete and diverse landscape of religious history in America--but even more valuable for those who don't."—Erin Entrada Kelly, Library Journal (starred review)

"What the author endeavors to do here--and does so with deep-running stories told with verve and dash--is to square that narrative with a religious syncretism that provides a more colorful, distinct, eccentric, not to mention truthful, historical record.... An eye-opener. After reading Manseau, readers will see the influences he writes about not only dot, but shape, the landscape."—Kirkus

"With a novelist's verve and a historian's precision, Manseau deftly guides us through a cacophonous religious landscape, studded with encounters so unexpected and bizarre that they could be the stuff of speculative fiction.... Manseau's book likewise represents a remarkable gathering of American spiritual voices. Much more than a simple catalogue of diversity, One Nation, Under Gods is a stunning history of religious cross-pollination."—Tanya Erzen, Bookforum

"With tales of secret faiths, false tolerance and quiet yet formidable dissent, each chapter is a window onto lives that were lived on the margin of Christian narratives. And along with a few intriguing statistics, like the fact that 20 percent of Africans in the early colonies were Muslim, and that most of the colonists didn't bother to go to church, they shine a light on history's finer strands.... [A] lively, refreshing account."—Damaris Colhoun, New York Times Book Review

"Manseau artfully packs each profile with context, adding the occasional soupçon of drama to assure maximal, enthralling readability."—Booklist

"Here at last is the rest of the American story, in one great kaleidoscope of a book. Peter Manseau has revealed the many too often obscured by 'one nation.' The truth is so much more vast and strange and funny and fascinating than that, and Manseau, a brilliant writer of great wit, curiosity, and learning, is the perfect guide."—Jeff Sharlet, author of The Family

"Truth telling and riveting storytelling don't always go hand in hand, but they do in this necessary history of America's stunningly diverse religious heritage."—Cathleen Medwick, MORE Magazine

"An unusual work of history... A series of isolated snapshots, each chapter telling the story of a person considered a heretic, blasphemer, atheist or heathen, who nevertheless helped in some way to shape the course of American history."—Laura Miller, Salon

"One Nation, Under Gods is one of those too-rare works of innovative history that also manage to be works of literary art. Its series of interlocking stories, rich in color and depth, combine to offer a new picture of America, both past and present."—Adam Goodheart, author of 1861

"In 'One Nation, Under Gods,' Manseau... examines the tension between the one and the many in a wide-ranging series of anecdotes (some of them long forgotten) drawn from 500 years of American history."—Glenn C. Altschuler, San Francisco Chronicle

"An unexpected history of the United States, in which Muslim explorers, Chinese temple-builders, Hindu philosophers, Shinto soldiers, Ouija-board-wielding hippies and those Sikh lumbermen shape the ideals of a nation, right alongside the familiar Protestant founding fathers."—Michael Schulson, Salon

"Like most nations, the United States also needs to rewrite its history in order to remove myths that have become part of its history books. Peter Manseau has done just that in his exceptionally brilliant book."—Arif Jamal, The Washington Book Review

"Prodigiously entertaining and thought-provoking.... One Nation, Under Gods is a sparkling work and a very pleasingly playful one, just exactly the pitch of light but learned inquiry that the vexed question of religion in America desperately needs, and the embattled secular humanism at the book's core is as refreshing as it is rare."—Steve Donoghue, Open Letters Monthly

"Brilliant."—Ed Simon, Tikkun

"One Nation, Under Gods is a tour de force, definitely in the must-read category.... Dissecting 500 years of history, [Manseau] presents scholarly research as compelling storytelling that presents a controversial view: the notion that the United States was founded as a Christian nation is a myth."—Najwa Margaret Saad, The Arab Weekly

"Beautifully written account of our interfaith country."—Eboo Patel, Sojouners

"The case for a pluralistic America is made even stronger when the stories of religious minorities are brought in from the margins and given the level of critical attention they deserve... One Nation, Under Gods deals a fatal blow to the myth of America as a singularly Christian nation. It is a Christian nation, of sorts, but it has always been more than that. It is a Muslim nation and a Sikh nation and a Buddhist nation. Its religious legacy doesn't just belong to the Puritans' ideological descendants."—Sarah Jones, Church and State

"A curious and rewarding series of acutely observed and felt character studies from American history... Manseau sympathizes with these colorful and brave figures from America's spiritual margins, and he appreciates how those margins, in often unacknowledged ways, shaped American religion and culture."—Brian Doherty, Reason

"Lively and well researched look into our country's wonderfully checkered religious past. While most of us trace a Christian-centric past from the founding Puritans to a Fundamentalist present, Manseau argues that the USA is the most religiously diverse nation in the world-and backs up his argument with examples ranging from the earliest Wiccans through present-day cults and movements. Fascinating stuff."—Bethanne Patrick, Washingtonian

"Wonderfully engaging..."—Religion News Service
Back Bay Books, 9780316100014, 480pp.
Publication Date: February 23, 2016
About the Author
Peter Manseau holds a doctorate in religion from Georgetown University and currently serves as the first-ever Curator of American Religious History at the Smithsonian. He is the author of Rag and Bone, Songs for the Butcher's Daughter, and Vows. He lives in Annapolis, Maryland.
or
Not Currently Available for Direct Purchase