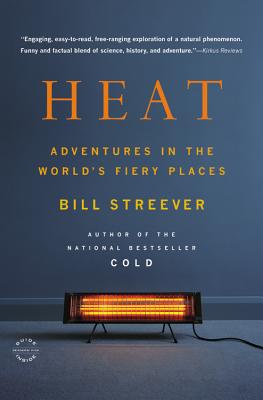 Heat
Adventures in the World's Fiery Places
Paperback

* Individual store prices may vary.
Other Editions of This Title:
Hardcover (1/15/2013)
Description
An adventurous ride through the most blisteringly hot regions of science, history, and culture.

Melting glaciers, warming oceans, droughts-it's clear that today's world is getting hotter. But while we know the agony of a sunburn or the comfort of our winter heaters, do we really understand heat?

A bestselling scientist and nature writer who goes to any extreme to uncover the answers, Bill Streever sets off to find out what heat really means. Let him be your guide and you'll firewalk across hot coals and sweat it out in Death Valley, experience intense fever and fire, learn about the invention of matches and the chemistry of cooking, drink crude oil, and explore thermonuclear weapons and the hottest moment of all time-the big bang.

Written in Streever's signature spare and refreshing prose, Heat is an adventurous personal narrative that leaves readers with a new vision of an everyday experience-how heat works, its history, and its relationship to daily life.
Praise For Heat: Adventures in the World's Fiery Places…
2014 Nautilus Award Silver WinnerPRAISE FOR HEAT:

"An illuminating romp sure to delight connoisseurs of extreme geography and ignite everyone's inner pyromaniac." -- David R. Montgomery, author of The Rocks Don't Lie: A Geologist Investigates Noah's Flood—-

"In this worthy companion to Cold, Streever is able to mix the pop science, personal experiences, and historic asides into a fun and informative commentary on a subject that few people think about despite its inherent life and death implications." -- Publishers Weekly (starred review)—-

"This book, equally engaging and filled with fascinating facts, will appeal to old and young, and likely sell like superheatedcakes." -- The Huffington Post—-

"Streever's book is rangy and free-form.... Evocative scientific explanations also punctuate his exploits.... He clearly has an affinity for extremes and a gutsy, undaunted spirit that enlivens both his inquiries and his writing." -- Smithsonian Magazine—-

"Engaging, easy-to-read, free-ranging exploration of a natural phenomenon. Funny and factual blend of science, history, and adventure." -- Kirkus Reviews—-

"Bill Streever has now covered the full spectrum. As he did with his previous book, Cold, Heat reminds us that our survival depends on maintaining ourselves within a very narrow range of temperature, but Streever has gone ahead and surveyed the extremes." -- The Daily Beast—-

A "thoroughly entertaining companion volume.... Streever operates in some of the same territory as Mary Roach and Bill Bryson: taking on big, serious topics, and making them entertaining without making them trivial, inserting himself into the narrative without overwhelming the material. This is a fine balancing act." -- The San Francisco Chronicle—-

"Bill Streever is an able guide into the flaming regions of our beleaguered evirons... a rare nature book, a pleasing mix of first-person narrative and layman science. The facts come fast and furious but are served on a platter of digestible prose." -- The Minneapolis Star Tribune—-

"Streever's easy-going, colourful prose is at its best in his vivid descriptions of historical events." -- The New Scientist—-

"Confronted in 2009 with the best-selling success of "Cold," biologist Bill Streever was all but obligated to take on "Heat," but he's done it with more verve and creativity, giving readers a virtual page-turner ... He writes cleverly, clearly, at times beautifully ... He's a friendly tour guide, with a wry sense of humor." -- The Cleveland Plain Dealer—-

"Streever has a knack for explaining scientific phenomena to a general readership, confidently surveying both the historical development of scientific research and chemical reactions." -- The New Republic—-

"He adeptly explains scientific principles and their applications in human terms, and via specific examples. It's almost as if Streever has hit upon a winning formula for popular-science writing that doesn't...dumb down the substantive science.... Streever has a nice touch. He variously makes you think and smile. Sometimes he achieves both at the same time." -- Winnipeg Free Press—-

"HEAT can't help but ignite interest among those of us emerging from the back end of a monumentally miserable winter." -- The Cleveland Plain Dealer—-
Back Bay Books, 9780316105323, 384pp.
Publication Date: December 3, 2013
About the Author
Bill Streever is the bestselling and award-winning author of And Soon I Heard a Roaring Wind , Cold, and Heat. As a biologist, he has worked on issues ranging from climate change to the restoration of Arctic tundra to underwater noise to the evolution of cave crayfish. With his wife and co-captain, he splits his time between Alaska and their cruising sailboat, currently in Central America.