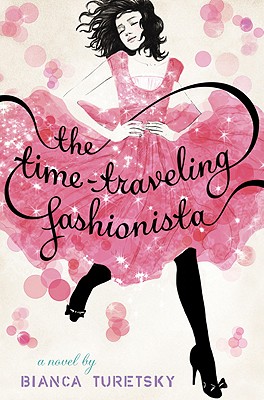 The Time-Traveling Fashionista (Hardcover)
Poppy Books, 9780316105422, 272pp.
Publication Date: April 5, 2011
* Individual store prices may vary.
or
Not Currently Available for Direct Purchase
Description
"What if a beautiful vintage dress could take you back in time?"
Louise Lambert has always dreamed of movie starlets and exquisite gowns and longs for the day when she can fill the closet of her normal suburban home with stylish treasures. But when she receives a mysterious invitation to a vintage fashion sale in the mail, her once painfully average life is magically transformed into a time-travel adventure.
Suddenly onboard a luxurious cruise ship a hundred years ago, Louise relishes the glamorous life of this opulent era and slips into a life of secrets, drama, and decadence. . . .
Dreamy and imaginative, "The Time-Traveling Fashionista" features thirty full-color fashion illustrations to show gorgeous dresses and styles throughout history.
About the Author
Bianca Turetsky is the author of the stylish Time-Traveling Fashionista series, which has been translated into nine languages. A graduate of Tufts University, Bianca managed the studio of artist/filmmaker Julian Schnabel for the last ten years. She lives in a cozy studio apartment in Brooklyn, New York, that houses her very extensive and much-loved vintage collection.
Praise For The Time-Traveling Fashionista…
"The Time Traveling Fashionista had me under its spell from the first page. It whisked me back in time to an era of impeccable manners, glamorous people, and of course, gorgeous clothes. Debut author Bianca Turetsky has begun an amazing new series."

"...The story begins when Louise, a stylish seventh-grader from Connecticut, tries on a dress at a vintage sale that used to belong to a film star. Then suddenly, she's transported, and becomes a passenger on [a] massively luxurious cruise ship in a sea of glamorous people with gorgeous clothes. The story takes tons of twists and turns as Louise figures out whether her alter-ego can change history and stop the ship from sinking. So, bottom line: totally recommend! Plus, the pencil sketches of gowns throughout the book give it a very reading-your-awesome-best-friend's-diary feel."
Advertisement