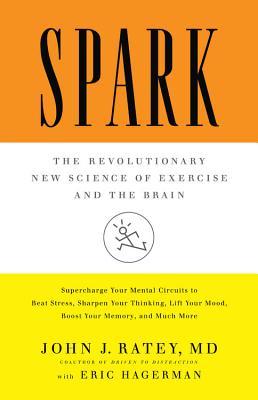 Spark
The Revolutionary New Science of Exercise and the Brain
Hardcover

* Individual store prices may vary.
Other Editions of This Title:
Paperback (1/1/2013)
Compact Disc (8/1/2009)
Description
A groundbreaking and fascinating investigation into the transformative effects of exercise on the brain, from the bestselling author and renowned psychiatrist John J. Ratey, MD.

Did you know you can beat stress, lift your mood, fight memory loss, sharpen your intellect, and function better than ever simply by elevating your heart rate and breaking a sweat? The evidence is incontrovertible: Aerobic exercise physically remodels our brains for peak performance.

In Spark, John J. Ratey, M.D., embarks upon a fascinating and entertaining journey through the mind-body connection, presenting startling research to prove that exercise is truly our best defense against everything from depression to ADD to addiction to aggression to menopause to Alzheimer's.

Filled with amazing case studies (such as the revolutionary fitness program in Naperville, Illinois, which has put this school district of 19,000 kids first in the world of science test scores), Spark is the first book to explore comprehensively the connection between exercise and the brain. It will change forever the way you think about your morning run -- -or, for that matter, simply the way you think.
Praise For Spark: The Revolutionary New Science of Exercise and the Brain…
"At last a book that explains to me why I feel so much better if I run in the morning! This very readable book describes the science behind the mind-body connection and adds to the evidence that exercise is the best way to stay healthy, alert, and happy!"
—
Dr. Susan M. Love
,
Dr. Susan Love's Menopause and Hormone Book and Dr. Susan Love's Breast Book
"Bravo! This is an extremely important book. What Cooper did decades ago for exercise and the heart, Ratey does in SPARK for exercise and the brain. Everyone--teachers, doctors, managers, policy-makers, individuals trying to lead the best kind of life--can benefit enormously from the utterly convincing and brilliantly documented thesis of this ground-breaking work. People know that exercise helps just about everything, except anorexia, but it will surprise most people just how dramatically it improves all areas of mental functioning. So, get moving! You're brain will thank you and repay you many times over."
—
Edward Hallowell, M.D.
,
The Hallowell Centers
"This book is a real turning point that explains something I've been trying to figure out for years. Having experienced symptoms of both ADHD and mild depression, I have personally witnessed the powerful effects of exercise, and I've suspected that the health benefits go way beyond just fitness. Exercise is not simply necessary, as Dr. Ratey clearly shows, it's medicine."
—
Greg LeMond
,
Three-time winner of the Tour de France
"SPARK is just what we need-a thoughtful, interesting, scientific treatise on the powerful and positive impact of exercise on the brain. In mental health, exercise is a growth stock and Ratey is our best broker."
—
Ken Duckworth, M.D.
,
Medical Director for the National Alliance on Mental Illness
Little, Brown Spark, 9780316113502, 304pp.
Publication Date: January 10, 2008
About the Author
John Ratey, M.D., is a clinical professor of psychiatry at Harvard Medical School. He is the author of numerous bestselling and groundbreaking books, including Spark, Driven to Distraction, and A User's Guide to the Brain. He lives in Cambridge, Massachusetts.
Coverage from NPR