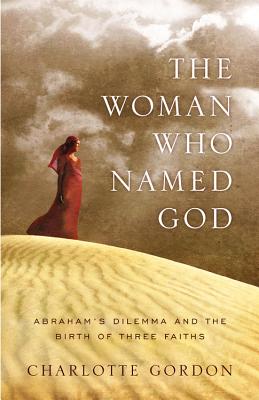 The Woman Who Named God
Abraham's Dilemma and the Birth of Three Faiths
Hardcover

* Individual store prices may vary.
Description
The saga of Abraham, Sarah, and Hagar is the tale of origin for all three monotheistic faiths. Abraham must choose between two wives who have borne him two sons. One wife and son will share in his wealth and status, while the other two are exiled into the desert. Long a cornerstone of Western anxiety, the story chronicles a very famous and troubled family, and sheds light on the ongoing conflict between the Judeo-Christian and Islamic worlds.

How did this ancient story become one of the least understood and most frequently misinterpreted of our cultural myths? Gordon explores this legendary love triangle to give us a startling perspective on three biblical characters who -- with their jealousies, passions, and doubts -- actually behave like human beings.

The Woman Who Named God is a compelling, smart, and provocative take on one of the Bible's most intriguing and troubling love stories.
Praise For The Woman Who Named God: Abraham's Dilemma and the Birth of Three Faiths…
"Thoughtful...Gordon examines all the familiar features of the story but pays particular attention to the human feelings of jealousy and distrust that affected the trio....She offers perceptive insights into an ancient story whose consequences continue to reverberate."
—
Judith Chettle
,
Richmond Times-Dispatch
"A unique look at the Old Testament relationships between and among Abraham; his wife, Sarah; and his mistress, Hagar....Most interesting is Gordon's focus on the exiled, shamed, and shadowed Hagar, whom Gordon elevates to a mystic and prophet....Complex and multilayered....The story speaks to the 21st century....General readers with even a casual interest in religion and its impact on history, as well as on current events, will appreciate the lens through which the author peers."—
C. Brian Smith
,
Library Journal
"Here and there on the front lines of the clash of civilizations, we can glimpse a few pockets of compassion....Gordon implores her readers to ask one of those "what-if" questions that reframe all of our conventional wisdom: "What if Abraham had chased after his mistress and firstborn son, begged Sarah to forgive his betrayal, and urged Hagar to forgive Sarah's jealousy, so that they might raise their sons together? Would we be any better at living in peace?" Gordon's provocative question hints at a more intimate aspect of the story of Hagar. .....The Bible, it has been said, is the least-read best-seller of all times. But there is a whole literature devoted to reconsidering the ancient text, a literature that is full of shocks and surprises, wholly unexpected cross-wirings of religious traditions, and illuminating flashes of insight and wisdom. On that shelf you will find Gordon's book, a superb example of how to approach the Bible."
—
Jonathan Kirsch
,
truthdig.com
"A refreshing viewpoint...Gordon focuses on the roles of Sarah and Hagar, Abraham's wife and concubine, and mothers to two great nations. Acknowledging the short shrift given these two remarkable women, the author provides a closer examination of their roles....Gordon adds something new to an already full body of scholarship on Abraham."
—
Kirkus Reviews
,
-
"Provocative...Gordon gives new power to a woman often left in the shadows. Focusing on Hagar's vision of God in the desert, Gordon argues that Hagar is a prophet and a mystic who names God El-Roi, or "the God of my seeing"....Gordon provides some glimpses of the power of Hagar's story for modern religions."
—
Publishers Weekly
,
-
Praise for
Mistress Bradstreet
:
"Gordon tells Anne Bradstreet's gripping tale, including hardships and delights, in a clear, lively style."—
M.S. Mason and Rebecca Salomonsson
,
Christian Science Monitor
"A thorough, occasionally whimsical, and hearteningly feminist take on the life of early Puritan pioneer and pundit Anne Bradstreet.
—
Kirkus Reviews
"A vibrant, engaging, realistic portrayal of early colonial Massachusetts and of its fascinating biographical subject."—
Ray Olson
,
Booklist (starred)
"Gordon has a clear engagement with Bradstreet, and the major accomplishment of this lively biography is in showing that she is as exceptional a person as the 17th-century New England she lived in."—
Michael Kenney
,
Boston Globe
Little, Brown and Company, 9780316114745, 400pp.
Publication Date: July 28, 2009
About the Author
Charlotte Gordon graduated from Harvard College and received a Master's in Creative Writing and a Ph.D. in History and Literature from Boston University. She has published two books of poetry and, most recently, the biography Mistress Bradstreet, which was a Massachusetts Book Award Honor Book. From 1999-2001, she taught at Boston University's School of Theology. Currently, she is an assistant professor of English at Endicott College.
or
Not Currently Available for Direct Purchase