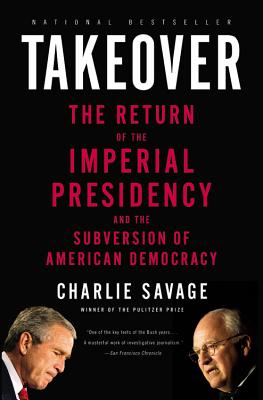 Takeover (Paperback)
The Return of the Imperial Presidency and the Subversion of American Democracy
Back Bay Books, 9780316118057, 448pp.
Publication Date: April 28, 2008
* Individual store prices may vary.
Description
Praised everywhere as a stunning work of reportage, TAKEOVER lays bare a hidden agenda, three decades in the making, to allow the White House to wield enormous powers, unchecked by Congres or the courts--an agenda that links warrantless wiretapping and Bush's judicial nominees, torture and Cheney's energy task force, the faith-based initiative and the imprisonment of citizens without trial. TAKEOVER tells the story of how a group of true believers, led by Cheney, set out to establish near-monarchical executive powers that, in the words of one conservative critic, "will lie around like a loaded weapon"
for any future president
.
About the Author
Charlie Savage began his reporting career in 1999, covering local and state government for the Miami Herald. In 2003, he joined the Boston Globe's Washington Bureau. Savage lives in Washington, DC, with his wife and son.
or
Not Currently Available for Direct Purchase