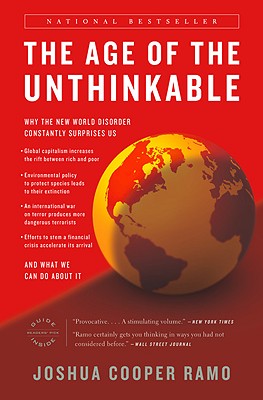 The Age of the Unthinkable (Paperback)
Why the New World Disorder Constantly Surprises Us And What We Can Do About It
Back Bay Books, 9780316118118, 304pp.
Publication Date: June 2, 2010
Other Editions of This Title:
Digital Audiobook (3/22/2009)
CD-Audio (6/21/2010)
Compact Disc (3/1/2009)
Hardcover (3/1/2009)
* Individual store prices may vary.
Description
Today the very ideas that made America great imperil its future. Our plans go awry and policies fail. History's grandest war against terrorism creates more terrorists. Global capitalism, intended to improve lives, increases the gap between rich and poor. Decisions made to stem a financial crisis guarantee its worsening. Environmental strategies to protect species lead to their extinction. The traditional physics of power has been replaced by something radically different.

In The Age of the Unthinkable, Joshua Cooper Ramo puts forth a revelatory new model for understanding our dangerously unpredictable world. Drawing upon history, economics, complexity theory, psychology, immunology, and the science of networks, he describes a new landscape of inherent unpredictability -- and remarkable, wonderful possibility.
About the Author
Joshua Cooper Ramo is the author of the international bestseller The Age of the Unthinkable. He is co-chief executive officer and vice chairman of Kissinger Associates and a member of the board of directors of FedEx and Starbucks. His first book, No Visible Horizon, chronicled his experiences as a competitive aerobatic pilot.
Praise For The Age of the Unthinkable: Why the New World Disorder Constantly Surprises Us And What We Can Do About It…
"[Ramo's] provocative new book...does a nimble job of showing how such theories shed light on the current political and economic climate while avoiding the worst pitfalls...[he] has managed, in this stimulating volume, to make the reader seriously contemplate the alarming nature of a rapidly changing world."
—
Michiko Kukatani
,
New York Times
"A great read, a wondrous and unexpected journey through a world that keeps getting more complicated. Joshua Cooper Ramo has a brilliant mind and a beautiful pen, and both are evident in this stimulating book."
—
Fareed Zakaria
,
author of The Post-American World"
Ramo pushes the reader into uncomfortable yet exhilarating places with controversial ways of thinking about global challenges...Persuasively argued...Ramo's revelatory work argues that there must be some audacity in thinking before there can be any audacity of hope."—
Publishers Weekly
"Thought-provoking...highly recommended for anyone who runs a business, is involved in international relations, or cares about our collective future."
—
Boston Globe
Book Videos