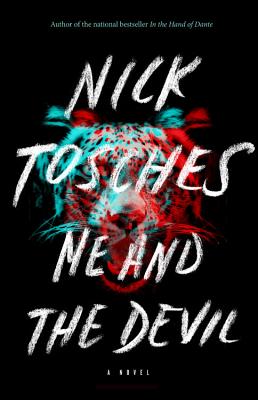 Me and the Devil
A Novel
Hardcover

* Individual store prices may vary.
Other Editions of This Title:
Digital Audiobook (12/3/2012)
Paperback (12/3/2013)
Description
An aging New Yorker, a writer named Nick, feels life ebbing out of him. The world has gone to hell and Nick is so sick of it all that he can't even have a glass of champagne. Then one night he meets a tantalizing young woman who agrees to come back to his apartment. Their encounter is the most strangely extraordinary of his life. Propelled by uncontrollable, primordial desires, he enters a new and unimagined dimension of the forbidden and is filled with a sexual and spiritual ecstasy that is as intense as it is unholy.

Suddenly Nick's senses are alive. He feels strong, unconquerable, beyond all inhibition and earthly morality. He indulges in life's pleasures, pure and perverse, sublime and dangerous, from the delicate flavors of the perfect tomato to the fleshy beauty of a woman's thigh. But Nick's desire to sustain his rapture leads him to a madness and a darkness far greater and dreadful than have ever ridden the demon mares of night. Writing in a lineage that includes Dante, William S. Burroughs, Charles Bukowski, Hubert Selby, Jr., and Hunter S. Thompson, Nick Tosches may be America's last real literary outlaw -- a fearless, uncensorable seeker of our deepest secret truths and desires, from the basest to the most beautiful.

Me and the Devil is outrageous, disturbing, and brilliant, a raw and blazing novel truly unlike any other. Like the man said: Read him at your peril.

"A raw and blazing novel by "the single, most brain-searingly dangerous man of letters. Read him at your peril." -- Anthony Bourdain
Praise For Me and the Devil: A Novel…
"This is the best, from one of the best writers around. Nick Tosches knows the devil as well as any man has."--Keith Richards
—
-
"Words and wisdom that I shall carry with me into the fucking dirt."--Johnny Depp
—
-
"If there was ever any doubt that Nick Tosches is the Dark Prince of literary fiction,
Me and the Devil
should settle the matter. The single, most brain-searingly dangerous man of letters. Read him at your peril."--Anthony Bourdain—
-
"A dark narrative that cleverly blurs the lines between reality and fantasy....Tosches takes readers on an unpredictable journey through disturbing and erotic desires ....excellent."--Booklist
—
-
"By turns profane, obscene, perhaps even blasphemous, Tosches's fictional account of 'the most diabolically fucked-up year of my life' is like a cross between William S. Burroughs and J.K. Huysmans."--Ron Hogan,
Shelf Awareness Pro
—
-
"Tosches has created an erotic asphalt odyssey that takes him on a subcutaneous awakening, drifting through a world of hallucinations, dark secrets and dangerous desires."--Peter Wolf
—
-
"During his long career, Toshces has earned a reputation as a writer who doesn't mess around....
Me and the Devil
is Tosches touching his outer limits. It's a compulsively readable tale of sadomasochistic obsession and Faustian misbehavior: a meta-rumination on aging, sex, and the nature of art."--Tony O'Neill,
BlackBook
—
-
"Another chapter in Tosches's unflinchingly perverse literary output."--
The New Yorker
—
-
Little, Brown and Company, 9780316120975, 400pp.
Publication Date: December 4, 2012
About the Author
Nick Tosches is from Newark, New Jersey. He is the author of four previous novels, Me and the Devil, In the Hands of Dante, Cut Numbers, and Trinities. His nonfiction works include Where Dead Voices Gather, The Devil and Sonny Liston, Dino, Power on Earth, Hellfire, Country, and Unsung Heroes of Rock 'n' Roll. He lives in New York City.
or
Not Currently Available for Direct Purchase