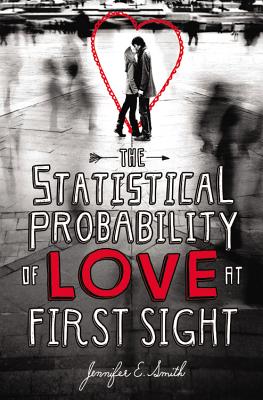 The Statistical Probability of Love at First Sight (Hardcover)
Poppy Books, 9780316122382, 256pp.
Publication Date: January 2, 2012
* Individual store prices may vary.
Description
Quirks of timing feature in this romantic novel about family connections, second chances, and first loves. Set over a twenty-four-hour-period, Hadley and Oliver find that true love can be unexpected.Today should be one of the worst days of seventeen-year-old Hadley Sullivan's life. Having just missed her flight, she's stuck at JFK airport and late to her father's second wedding, which is taking place in London and involves a soon-to-be stepmother Hadley's never even met. Then she meets the perfect boy in the airport's cramped waiting area. His name is Oliver, he's British, and he's sitting in her row. A long night on the plane passes in the blink of an eye, and Hadley and Oliver lose track of each other in the airport chaos upon arrival. Can fate intervene to bring them together once more?
About the Author
Jennifer E. Smith is the author of Hello, Goodbye, and Everything in Between, The Geography of You and Me, This Is What Happy Looks Like, The Statistical Probability of Love at First Sight, The Storm Makers, You Are Here, and The Comeback Season. She earned a master's degree in creative writing from the University of St. Andrews in Scotland, and her work has been translated into thirty-three languages. She currently lives in New York City.
Praise For The Statistical Probability of Love at First Sight…
"An
extraordinary look at chance, connections, and the power of family and love, The Statistical Probability of Love at First
Sight will make your heart sing."



"This phenomenal depiction of an instant
connection shows that everything happens for a reason. Smith's unique story
will make you contemplate the magic of fate. I've been waiting for a love story
like this forever."



"Romantic and wise, The
Statistical Probability of Love at First Sight is a must-read. And the
second you meet Oliver, you're going to pray you miss your next flight."



"A gorgeous, heartwarming reminder of the power of fate. . . an endearing and lushly written account of how it feels to fall in love."
-The New York Times Book Review

"The elegant, poignant story is written primarily in present tense, giving the novel a cinematic effect and intensifying Hadley's roller-coaster emotions over the twenty-four-hour period. Hadley is a determined, thoughtful protagonist who, given little bits of luck, isn't afraid to create her own destiny. She anchors this bittersweet-mostly sweet-consideration of loss, marriage, fate, and love."
-The Horn Book Magazine

"A closely observed, ultimately moving tale of love, family and otherwise. . .Smith's acute insights make Hadley's heartache and loss as real as the magical unfurling of new love. "

-Kirkus

"A fast-paced and entertaining novel with a superlatively romantic premise."

-Publishers Weekly
or
Not Currently Available for Direct Purchase