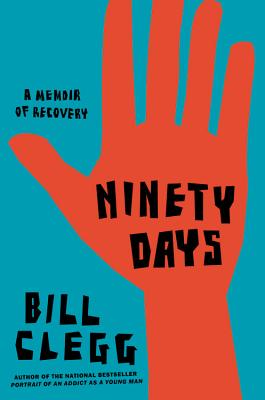 Ninety Days (Hardcover)
A Memoir of Recovery
Little, Brown and Company, 9780316122528, 208pp.
Publication Date: April 10, 2012
* Individual store prices may vary.
Description
The goal is ninety. Just ninety clean and sober days to loosen the hold of the addiction that caused Bill Clegg to lose everything. With six weeks of his most recent rehab behind him he returns to New York and attends two or three meetings each day. It is in these refuges that he befriends essential allies including Polly, who struggles daily with her own cycle of recovery and relapse, and the seemingly unshakably sober Asa.

At first, the support is not enough: Clegg relapses with only three days left. Written with uncompromised immediacy, NINETY DAYS begins where Portrait of an Addict as a Young Man ends-and tells the wrenching story of Clegg's battle to reclaim his life. As any recovering addict knows, hitting rock bottom is just the beginning.
About the Author
Bill Clegg is a literary agent in New York. He is also the author of Portrait of an Addict as a Young Man.
Praise For Ninety Days: A Memoir of Recovery…
"Clegg follows his gut-wrenching Portrait of an Addict as a Young Man with an equally stark tale of the hard and ongoing work of recovering from addiction."—Vanessa Bush, Booklist

"Clegg's spare, nearly minimalist style complements the drama inherent in his material: it's addition through subtraction. . . .With understated craft, Clegg has written a harrowing story."—Publishers Weekly

"Standing out among the many similar works on addiction and recovery, Clegg's intellectual story of his never-ending struggle for sobriety and his heartfelt, passionate revelations will directly touch the hearts of readers. His personal perspective also nicely supplements the many helpful guides to addiction recovery from professional therapists that target the friends and family members of addicts."—Library Journal

"This sequel is about [Clegg's] recovery - the circular pattern of stupefyingly tedious rehab and harrowing relapse. And yet it's suspenseful: We come to care about Clegg, whose voice is engaging and who never gets mired in self-pity."—National Post

"[Clegg] tells the story in plain, innocence-drenched sentences that bring to mind the wonderful Edmund White, as if to adorn the events would be dishonest. It is a bedtime story for adults, filled with first names only-Jack and Polly, Jane and Jean, Asa and Madge, Luke and Annie. A soothing and intimate book, and we hope Clegg has found peace at last."—The Daily Beast
Coverage from NPR
or
Not Currently Available for Direct Purchase