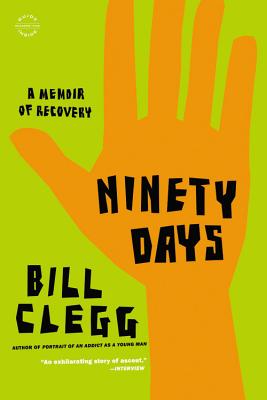 Ninety Days: A Memoir of Recovery (Paperback)
A Memoir of Recovery
Back Bay Books, 9780316122542, 194pp.
Publication Date: April 9, 2013
Description
The goal is ninety--just ninety clean and sober days to loosen the hold of the addiction that caused Bill Clegg to lose everything.

Six weeks out of his most recent rehab, Clegg returns to New York and starts attending two or three meetings each day. It is in these refuges that he befriends essential new allies including Polly, who struggles daily with her own cycle of recovery and relapse, and the seemingly unshakably sober Asa.

At first, the support is not enough: Clegg relapses with only three days left. That's when the battle to reclaim his life gets reignited. As any recovering addict knows, hitting rock bottom is just the beginning.
About the Author
Bill Clegg is a literary agent in New York. He is also the author of Portrait of an Addict as a Young Man.
Praise For Ninety Days: A Memoir of Recovery…
"Clegg has a direct, spare style and an engaging voice that is reminiscent, at least to me, of Jean Rhys in her fictional addiction book Good Morning, Midnight. It is because of this immediacy that Ninety Days turns out to be such an exhilarating story of ascent."
-Interview Magazine

"Clegg has rebuilt his career as an agent and become one of the best-known faces of addiction recovery."
-Salon.com

"Relationships, rather than high drama, are the real focus of Ninety Days, and as a result there is a tenderness at its heart."
-Vogue.com

"Clegg's need to connect saves him....What he has now - fewer secrets, gratitude, relief, an acknowledgement of his vulnerability, time out from his dance with death - adds up, like days."
-San Francisco Chronicle

"[Clegg] tells the story in plain, innocence-drenched sentences that bring to mind the wonderful Edmund White, as if to adorn the events would be dishonest."
-The Daily Beast

"Honest and earnest."
-Wall Street Journal
Advertisement