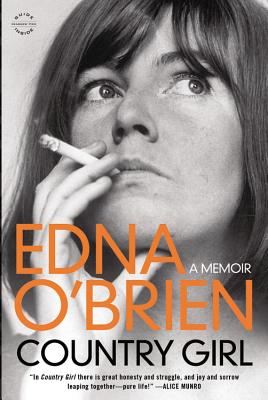 Country Girl
A Memoir
Paperback

* Individual store prices may vary.
Other Editions of This Title:
Digital Audiobook (9/16/2012)
Digital Audiobook (4/29/2013)
Hardcover (4/30/2013)
Description
"Country Girl is Edna O'Brien's exquisite account of her dashing, barrier-busting, up-and-down life."-National Public Radio

When Edna O'Brien's first novel, The Country Girls, was published in 1960, it so scandalized the O'Briens' local parish that the book was burned by its priest. O'Brien was undeterred and has since created a body of work that bears comparison with the best writing of the twentieth century. Country Girl brings us face-to-face with a life of high drama and contemplation.

Starting with O'Brien's birth in a grand but deteriorating house in Ireland, her story moves through convent school to elopement, divorce, single-motherhood, the wild parties of the '60s in London, and encounters with Hollywood giants, pop stars, and literary titans. There is love and unrequited love, and the glamour of trips to America as a celebrated writer and the guest of Jackie Onassis and Hillary Clinton.

Country Girl is a rich and heady accounting of the events, people, emotions, and landscape that have imprinted upon and enhanced one lifetime.
Praise For Country Girl: A Memoir…
Praise for Country Girl

"Ms. O'Brien has long and correctly been recognized as among the greatest Irish writers of the 20th century. She's had an outsize life to match her outsize talent."--Dwight Garner, New York Times—-

"O'Brien's account of her life is completely irresistible."--Kate Tuttle, Boston Globe—-

"O'Brien's religion has been literature; to it she has remained devout, with a fervor that is contagious...She is no saint. She is an icon."--Stacy Schiff, New York Times Book Review—-

"In prose as lyrical and exacting as any in O'Brien's fiction, Country Girl evokes both the solitariness and the adventure of a life devoted to writing."--Megan O'Grady, Vogue—-

"Edna O'Brien has made of her memories something of both precision and depth, a book that, letting us see her as she was, jumps with an all-consuming curiosity from one lucidly narrated event to another."--Philip Roth—-

"In Country Girl there is great honesty and struggle, and joy and sorrow leaping together--pure life!"--Alice Munro—-

"You must suffer to become yourself, and it doesn't get easier. I took heart from Country Girl, both as the self-portrait of a great prose stylist, and an exemplary female survivor."--Judith Thurman, "Best Books of 2012," The New Yorker—-

"Flashes of prodigious beauty and power."--Hilary Mantel—-

"The doyenne of contemporary Irish letters did not enjoy a straight-line rise to international fame and critical regard. . .Now, of course, O'Brien's fiction (brilliant short stories as well as novels) is seen for what it always was, richly illuminating and, yes, candid depictions of women's needs and desires, rendered with no sentimentality or salaciousness. . . .Her book is a beautifully expressed testament to a writer's tenacity."-Brad Hooper, Booklist (starred review)—-

"Demure reflections on her celebrated literary life well lived comprise this lovely memoir....O'Brien always returns to the enduring heart of her writing."-Publishers Weekly (starred review)—-

"Country Girl is a book of magics, truths, stories, and quiet immensity. No one else could have written it, and no one else could have lived it."-Andrew O'Hagan, author of Be Near Me—-

"Get ready to applaud, ladies and gentlemen, because there is no one like her. O'Brien, in her 80s, may look like an icon and talk like an icon, but she writes like the thing itself, with prose that is scrupulous and lyrical, beautiful and exact...."-Anne Enright, Guardian (UK)—-

"When sex fails you, there's always gossip. An excellent memoir, Country Girl provided it in shedloads, along with some moral seriousness to boot."-Louise Doughty, Observer (UK)—-

"Edna O'Brien's Country Girl shimmers with heart, soul and literary brilliance."-Nancy R. Ives, Library Journal—-

"After dazzling readers and reviewers around the world for decades, O'Brien, now 82, finally turns her attention to her own life. Country Girl is as dramatic as any novel."-O, the Oprah Magazine—-

"O'Brien is skilled at snatching triumph from melancholy....Thrilling, sensuous, unblinking."-Lisa Shea, Elle—-

"Edna O'Brien had to exile herself, like Joyce and Beckett, to become herself. Mad Ireland hurt her into prose the way Auden said it had hurt Yeats into poetry....Literature-O'Brien's most faithful companion, her deepest faith-brings what consolation it can. She returns the favor by adding her extravagant lyricism to its trove."-Charles McNulty, Los Angeles Times—-

"A wonderful, lively memoir."-Katie Roiphe, Slate.com—-

"Edna O'Brien, for whom the word 'redoubtable' may well have been coined, has lived a long and quite remarkable life...Anyone who knows and loves her work, as I do, will want to read Country Girl from start to finish."-Jonathan Yardley, Washington Post—-

"We follow O'Brien through convent school, love affairs, motherhood, the banning of her books, and her working years in London and New York. Along the way, we encounter Günter Gras, Joseph Brodsky, Jackie Onassis, and other luminaries. O'Brien beautifully renders her remarkably rich life, her 'many me's.'"-The New Yorker—-

"This is a big, robust life, and though one might come for the literary gossip, the lucid prose and sharp insight command one's attention. It's with good reason that this memoir has been placed on so many lists of best books of 2013...We're in the thrall of one of the most beguiling and resilient contemporary writers, a stylist and a survivor...through it all, she's an exuberant literary pioneer." -Elizabeth Taylor, Chicago Tribune (Editor's Choice)—-
Back Bay Books, 9780316122719, 384pp.
Publication Date: May 6, 2014
About the Author
Edna O'Brien is the author of The Country Girls trilogy, The Light of Evening, The Love Object, and many other acclaimed books. Born and raised in the west of Ireland, O'Brien has lived in London for many years.
or
Not Currently Available for Direct Purchase