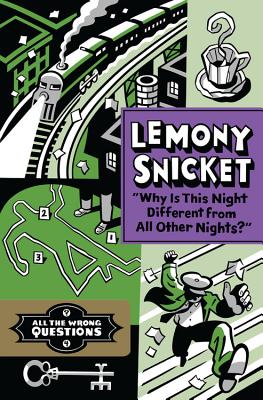 "Why Is This Night Different from All Other Nights?" (Hardcover)
Little, Brown Books for Young Readers, 9780316123044, 304pp.
Publication Date: September 29, 2015
* Individual store prices may vary.
Description
Before the Baudelaires became orphans, before he encountered A Series of Unfortunate Events, even before the invention of Netflix, Lemony Snicket was a boy discovering the mysteries of the world.~b~>
Train travel! Murder! Librarians! A Series Finale!

On all other nights, the train departs from Stain'd Station and travels to the city without stopping. But not tonight. You might ask, why is this night different from all other nights? But that's the wrong question. Instead ask, where is this all heading? And what happens at the end of the line? The final book in Lemony Snicket's bestselling series, All the Wrong Questions. span
About the Author
Lemony Snicket's research has been collected and published in books, including those in A Series of Unfortunate Events. All The Wrong Questions is his first authorized autobiographical work.

Seth is a multi-award-winning cartoonist, author, and artist living in Guelph, Canada.
Praise For "Why Is This Night Different from All Other Nights?"…
Praise for the All the Wrong Questions series:
"A Pink Panther-esque page turner...exceptionally literary and entirely singular. Characterized by linguistic playfulness and an appreciation for the archaic, "Who Could That Be at This Hour?" is frequently laugh-out-loud hilarious...illustrations by celebrated cartoonist Seth only add to the throwback gumshoe vibe of this outrageous, long-overdue, middle-grade follow-up series from a truly beloved narrator."
—
Los Angeles Times
"Author Snicket closes his quartet of smart, noirish mysteries detailing the early training of the chronicler of the woes of the Baudelaire children with several bangs (and a poison dart or two). Best to start at the beginning, but the whole's an enjoyable ride."—
Kirkus reviews
"Demands to be read twice: once for the laughs and the second time for the clues."—
The Boston Globe
"The sort of goodie savored by brainy kids who love wordplay, puzzles and plots that zing from point A to B by way of the whole alphabet."—
The Washington Post
* "Will thrill fans of the author's earlier works and have even reluctant readers turning pages with the fervor of seasoned bookworms. A must-have."—
School Library Journal (starred review)
*"Full of Snicket's trademark droll humor and maddeningly open-ended, this will have readers clamoring for volume two."—
Publishers Weekly (starred review)
*"Full of Snicket's characteristic wit and word play . . . this book belongs in all collections."—
VOYA (starred review)
"Please, it's Lemony Snicket. Enough said."—
Booklist
"There's no stopping Snicket!"—
Booklist