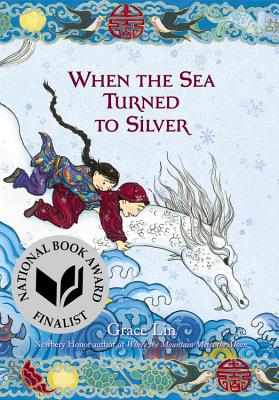 When the Sea Turned to Silver
Hardcover

* Individual store prices may vary.
Other Editions of This Title:
Digital Audiobook (10/3/2016)
Paperback (9/5/2017)
Library Binding, Large Print (3/11/2020)
CD-Audio (10/11/2016)
Compact Disc (10/4/2016)
Description
This breathtaking, full-color illustrated fantasy is inspired by Chinese folklore, and is a companion to the Newbery Honor winner Where the Mountain Meets the Moon.

Pinmei's gentle, loving grandmother always has the most thrilling tales for her granddaughter and the other villagers. However, the peace is shattered one night when soldiers of the Emperor arrive and kidnap the storyteller.

Everyone knows that the Emperor wants something called the Luminous Stone That Lights the Night. Determined to have her grandmother returned, Pinmei embarks on a journey to find the Luminous Stone alongside her friend Yishan, a mysterious boy who seems to have his own secrets to hide. Together, the two must face obstacles usually found only in legends to find the Luminous Stone and save Pinmei's grandmother--before it's too late.

A fast-paced adventure that is extraordinarily written and beautifully illustrated, When the Sea Turned to Silver is a masterpiece companion novel to Where the Mountain Meets the Moon and Starry River of the Sky.
Praise For When the Sea Turned to Silver…
Praise for When the Sea Turned to Silver:
A New York Times BestsellerA New York Times Notable Children's Books of 2016A National Book Award FinalistAn IndieBound BestsellerNPR Best Book of the Year PickThe Horn Book Fanfare Best Books of 2016ALA Notable Book for ChildrenAn Amazon Best Books of 2016 PickA CCBC Children's Choices PickA School Library Journal Best of 2016: Middle Grace ChoiceA Booklist Editor's Choice 2016B&N Kids Blog 10 Notable Middle Grade Novels of 2016Bank Street College of Education 2017 Best Children's Book of the Year
"Grace Lin has written a middle-grade trilogy of surpassing wonder and emotional weight... Remarkable... A must-read... Full of charm and driving action... Lin has made herself immortal in this trilogy, no doubt."—The New York Times Book Review

*"On its own, this third volume contains a richly complex adventure story that revisits previous themes....The three books together, however, offer one grand epic that spans generations....Lin's stonecutter claims that storytellers 'can make time disappear...bring us to places we have never dreamed of...feel sorrow and joy and peace'; the description is a fitting one for author-illustrator Lin herself, who has proven herself a master."—The Horn Book, starred review

*"The meticulous craft delivers what Lin's fans have come to expect... This beautifully told companion to Where the Mountain Meets the Moon (2009) and Starry River of the Sky (2012) offers lyrical storytelling, bringing 'us to places we have never dreamed of.'"—Kirkus Reviews (starred review)

*"Lin's vibrant chapter decorations and full-color, full-page paintings add to the work's beauty....A stunning addition to a deservedly beloved set of novels; recommended for all middle grade collections."—School Library Journal (starred review)

*"Compelling....Lin's fans will not be disappointed: she again delivers a rich interweaving of ancient tales with fast-paced adventure, fantasy, and slowly unfolding mysteries told through captivating language."—Publishers Weekly (starred review)

*"Lin's evocative language sweeps readers away, and the stories within the story are juicy and delicious....[A] worthy companion to her Newbery Honor book Where the Mountain Meets the Moon (2009) and Starry River of the Sky (2012)."—Booklist (starred review)

"Pinmei's journey has a compelling urgency that quickens the pace and enlivens the adventure, while the short stories are smoothly integrated and provide sly, subtle connections to plot events, making satisfying the climactic scene in which the elements converge....Lin's characteristic elegant prose...keeps its enchanting, luminous quality."—BCCB

"In this captivating tale... readers will not only enjoy the 'frame' story revolving around Pinmei and Yishan, but will also like (and recognize) some of the other stories being told."—School Library Connection

* "The lively mixture of adventure, mystery, and fantasy, supported by compelling character development and spellbinding language, will captivate a wide swath of readers."—Publishers Weekly, starred review
Little, Brown Books for Young Readers, 9780316125925, 384pp.
Publication Date: October 4, 2016
About the Author
Grace Lin is the award-winning and bestselling author and illustrator of Starry River of the Sky, Where the Mountain Meets the Moon, The Year of the Dog, The Year of the Rat, Dumpling Days, and Ling & Ting, as well as pictures books such as The Ugly Vegetables and Caldecott Honor book A Big Mooncake for Little Star. Grace lives with her husband and daughter in Western MA, where they get plenty of winter snow. Her website is www.gracelin.com.
1. Amah tells Pinmei, "I know that when it is time for you to do something, you will do it." Does Pinmei believe her?
2. After Amah tells the stonecutter, "Stories cannot tell all," he says, "I disagree. I think stories tell everything." Why does the stonecutter believe this and not the Storyteller?
3. Lady Meng says, "If one of the greatest joys is encountering a friend far from home, making a friend must be as well." How do friendships cause positive results throughout the book?
4. The stonecutter tells Amah, "Almost all men respect the Storyteller. You can make time disappear. You can bring us to places we have never dreamed of. You can make us feel sorrow and joy and peace. You have great magic." Amah says the stonecutter is flattering her. Why does she not see her own importance, and how is that similar to Pinmei's own struggle?
5. The Paper of Answers told the king and emperor that the secret to mortality is stories. What does this mean?
6. The Paper of Answers not only provides answers to questions, but can physically change people too. Why does it work differently with different people?
7. Joy to the Heart says, "Mortals are the only ones who can give immortality. . . I guess it's because it's the mortals who create the memories that last. Without those, immortals forget. They can even forget who they are, right?" Why do you think Yishan had forgotten who he was? What does this show about the importance of stories?
8. In The Story of Our Mountain, the new ruler is mocked by the Mountain Spirit who asks, "Do you know who you are? Will you ever know?" Why does this make the new ruler so angry?
9. Yishan tells Pinmei on page 360 that she is a friend he will never forget, and that is the only immortality that matters. On page 368, Pinmei says she finally understands. What does she understand?
10. The book ends with Pinmei beginning to tell a story. The story begins with "When the sea turned to silver," which is the same way the book begins, and is the title of the book. How is everything tied together? What story is now being told? Why is it fitting this last scene takes place in the Long Walkway?