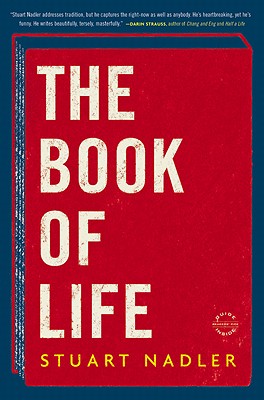 The Book of Life (Paperback)
Back Bay Books, 9780316126472, 256pp.
Publication Date: September 1, 2011
Other Editions of This Title:
Paperback, Large Print (12/21/2012)
Paperback (4/1/2012)
* Individual store prices may vary.
Description
Forced together on a trip from Manhattan to Rhode Island, a father and son attempt to renew their bond over lobster, cigarettes, and a buried secret. A pure-hearted artist finds his devotion cruelly tested, while his true love tries to repent for the biggest mistake of her life. Unwittingly thrust into an open marriage, a man struggles to reconnect with his newly devout son. And in the book's daring first story, an arrogant businessman begins a forbidden affair during the High Holidays. Written in clear, crystalline prose, The Book of Life comprises seven stunning tales about faith, family, grief, love, temptation, and redemption that signal the arrival of a bold and exciting new writer.
About the Author
Stuart Nadler is a graduate of the Iowa Writers' Workshop, where he was awarded a Truman Capote Fellowship and a Teaching-Writing Fellowship. Recently, he was the Carol Houck Smith Fiction Fellow at the University of Wisconsin. His fiction has appeared in The Atlantic.
Praise For The Book of Life…
"Stuart Nadler addresses tradition, but he captures the right-now as well as anybody. He's heart-breaking, yet he's funny. He writes beautifully, tersely, masterfully."—Darin Strauss, author of Chang and Eng and Half a Life

"A writer of keen perception and sensibility, Nadler describes the difficult thresholds that separate absence and presence, arrivals and departures, the sacred and profane, bright memory and dark nostalgia. His writing reminds me why I love to read."—Gina Ochsner, author of The Russian Dreambook of Colour and Flight

"Stuart Nadler is an artist of secrets. Line after line of clear, revealing prose turn out to be incendiary. These are stories that expand without warning. A striking, rousing collection of people waking up fast. Nothing in The Book of Life is without consequence."—Rosecrans Baldwin, author of You Lost Me There

"In The Book of Life, Stuart Nadler offers a fresh, funny, perceptive take on the current state of the Jewish family, including the families we make with our friends and lovers. Like Bernard Malamud, Nadler has a gift for comic/ironic dialogue and for setting thoroughly modern characters on a collision course with the distant past. A truly talented writer."—Sharon Pomerantz, author of Rich Boy

Stuart Nadler treats his characters like people. The Book of Life is a fitting title for this collection-that's what it's about: life. Here's a Chekovian fascination with the human condition-the pleasures and tortures of family, love, sex, money, work, religion. These are stories about fathers, mothers, sons, daughters, wives, husbands, friends, lovers-people with complex lives, troubled souls, deep hearts and messy desires. Nadler is a writer, who, like Alice Munro, John Cheever or Bernard Malamud, does not write about "ordinary people" because he knows there's no such thing as an ordinary person. Each of these carefully wrought stories is as moving and masterful as a Chopin sonata; the notes and the silences between them will resonate with the reader for a very long time after they're done.—Benjamin Hale, author of The Evolution of Bruno Littlemore

"Stuart Nadler has written seven of the most gorgeous, poignant, intricately crafted, and compulsively readable stories I have read in a long time. His flawed protagonists tend to be forever on the brink of heartbreak, yet the unlikely effect of Nadler's fiction is that life is continually reaffirmed."—Frederick Reiken, author of Day for Night