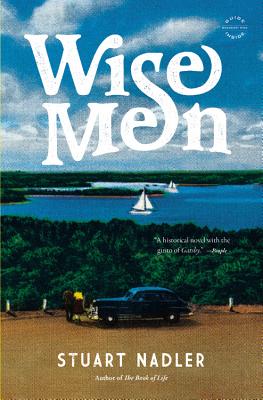 Wise Men (Paperback)
Back Bay Books, 9780316126496, 335pp.
Publication Date: February 25, 2014
Description
"An absorbing, well-crafted book, with all the storytelling virtues on display. It is atmospheric, thoughtful, and mature, with characters whose fate arouses genuine curiosity. It is fiction of great integrity and vast promise."--Hilary Mantel

Hilly Wise is the son of one of the wealthiest and most powerful lawyers in the United States. When Hilly meets Savannah, a young black girl, on the beach at Cape Cod during the summer of 1952, his affection for her collides with his father's secrets. The result shatters his family, and hers.

Years later, Hilly sets out to find Savannah and to right the wrongs he helped set in motion. But can his sense of guilt, and his good intentions, overcome the forces of history, family, and identity? A multi-generational story about love and regret, the evolving struggle for racial dignity, and the crushing weight of familial obligation, WISE MEN confirms that Stuart Nadler is one of the most exciting young writers at work today.
About the Author
Stuart Nadler is a recipient of the 5 Under 35 Award from the National Book Foundation. A graduate of the Iowa Writers' Workshop, where he was awarded a Truman Capote Fellowship and a Teaching-Writing Fellowship, he was also the Carol Houck Smith Fiction Fellow at the University of Wisconsin. He is the author of the story collection, The Book of Life.
Praise For Wise Men…
PRAISE FOR WISE MEN:

"A tense, evocative, page-turning saga of the bruising encounters between two families across the 'colour line' over half a century. Every conversation rings painfully, beautifully true."—Emma Donoghue, author of Room

"Wise Men reads like a classic; it is a completely engrossing novel, one that scars the reader's heart in the most satisfying way. In confident, unpretentious prose, Nadler tackles the complexity of racial tension and fifties mores in a manner reminiscent of Harper Lee and Carson McCullers, and in a smart, misses-nothing style that summons comparisons to Salinger and Cheever. Hilton Wise is a winsome and compelling narrator, one you'll find yourself rooting for days after finishing the book. Nadler's deft rendering of place, namely a secluded compound in coastal Massachusetts, allows the reader to become completely lost in Hilly's world. Wise Men is, at its core, a brutal love story, full of surprise and conviction, insight and deception, staggering wealth and loss, truth and beauty."—Megan Mayhew Bergman, author of BIRDS OF A LESSER PARADISE

"Stuart Nadler's first novel zooms and dips like an airplane with a trick pilot, one in complete control of his loop-de-loops. I have no doubt that Stuart Nadler is going to be one of our great novelists, and it all starts here, on a dune in Cape Cod, with the Wise men. These characters-knotted together with obligation, guilt, and love-will stay with me always."—Emma Straub, author of OTHER PEOPLE WE MARRIED and LAURA LAMONT'S LIFE IN PICTURES

"Wise Men is a brilliantly plotted and carefully observed novel that takes the reader deep inside a powerful family's most guarded secrets. An epic saga about a son's need to atone for the sins of his father and the sins of his own troubled youth. The driving heart of this ambitious novel is an impossible romance: one worth risking an entire outrageous fortune. With wisdom and compassion, Nadler examines the mysteries and manners of unrequited love. Wise Men confirms that Stuart Nadler is a writer of abundant talent and grace."—Amber Dermont, author of the New York Times bestseller The Starboard Sea

"Stuart Nadler is an elegant writer and a compelling storyteller. Wise Men explores the big questions in life---love and money and race and identity---in a story packed with secrets, longings, and obsessions. It is not a book to be missed."—Vanessa Diffenbaugh, author of the New York Times bestseller The Language of Flowers

"While Stuart Nadler's ambitious debut novel touches on money, class, race and religion, first and foremost Wise Men is about youth, betrayal and regret. In his idealism and denial, Hilly Wise, the poor little rich boy, is a truly American character, and the perfect narrator for the tale."—Stewart O'Nan, author of Emily, Alone and The Odds

"Genuinely moving."—Boston Globe
Advertisement