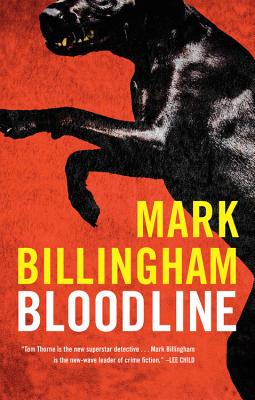 Bloodline (Hardcover)
Mulholland Books, 9780316126663, 352pp.
Publication Date: July 1, 2011
* Individual store prices may vary.
or
Not Currently Available for Direct Purchase
Description
A killer is on the loose. The victims: children whose mothers can't protect them.

The past is coming back to haunt the people of London: a murderer is targeting the children of victims of Raymond Garvey, an infamous serial killer from London's past.

When Murder Squad veteran Detective Tom Thorne, who solves the London Police Department's most difficult cases, is called into what seems like, for once, an ordinary domestic murder, he thinks he's caught a break. A woman has been murdered by someone she knows. A positive pregnancy test found on the floor beside her. Thorne plans to question the husband, arrest him and return home to deal with his own deteriorating personal life.

But when a mysterious sliver of bloodstained X-ray that was found clutched in the victim's fist is replicated at other crime scenes around the city, Thorne realizes that this is not a simple case. As the bits of X-ray begin to come together to form a picture, it becomes clear that the killer knows his prey all too well and is moving through a list that was started long ago.

As Thorne attempts to protect those still alive, nothing and nobody are what they seem. Not when Thorne is dealing with one of the most twisted killers he has ever hunted.
About the Author
Mark Billingham worked as an actor, a TV writer and a stand-up comedian before becoming one of the most critically acclaimed crime novelists in the world. He lives in North London with his wife and two children.
Praise For Bloodline…
"Chilling, moody, humane, and very, very smart... Billingham is one of the most consistently entertaining, insightful crime writers working today."
-Gillian Flynn

"Thrilling ... Billingham continues to captivate with equal parts suspense, deduction, and heart."
-Publishers Weekly

"A compelling villain and the author's usual sensitivity to men and women pushed to the edge by their compulsions, their work or their families."
-Kirkus Reviews

"Billingham skillfully ratchets up the tension as the person the police are hunting begins to taunt them. The book's final portion is a tautly crafted explosion of violence and sudden twists ... Billingham draws a complex and intriguing character in Thorne and surrounds him with an interesting supporting cast. BLOODLINE promises to bring him, and Thorne, a bigger audience on this side of the pond."
-St. Petersburg Times

"Rich, heady, and gripping. A boss performance by Billingham, through and through."
-George Pelecanos

"With each of his books, Mark Billingham gets better and better. These are stories and characters you don't want to leave."

"Tom Thorne is the new superstar detective...Mark Billingham is the new-wave leader of crime fiction."
Advertisement