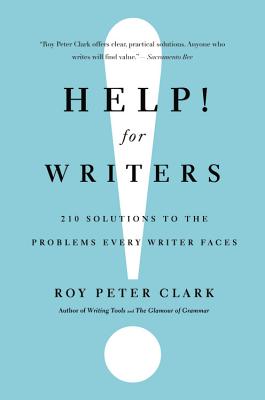 Help! For Writers
210 Solutions to the Problems Every Writer Faces
Paperback

* Individual store prices may vary.
Other Editions of This Title:
Digital Audiobook (9/20/2011)
MP3 CD (9/21/2011)
Compact Disc (9/21/2011)
Description
The craft of writing offers countless potential problems: The story is too long; the story's too short; revising presents a huge hurdle; writer's block is rearing its ugly head.

In Help! For Writers, Roy Peter Clark presents an "owner's manual" for writers, outlining the seven steps of the writing process, and addressing the 21 most urgent problems that writers face. In his trademark engaging and entertaining style, Clark offers ten short solutions to each problem. Out of ideas? Read posters, billboards, and graffiti. Can't bear to edit yourself? Watch the deleted scenes feature of a DVD, and ask yourself why those scenes were left on the cutting-room floor. Help! For Writers offers 210 strategies to guide writers to success.
Praise For Help! For Writers: 210 Solutions to the Problems Every Writer Faces…
Praise for The Glamour of Grammar:

"A grammar manual for the 21st century--a little more earthy, a little more relaxed. A welcome addition to the bookshelf of anyone who cares about language."—Ammon Shea, New York Times Book Review

"A fine common-sense guide to the proper use of language."—Barbara Fisher, Boston Globe

"A streamlined, accessible, witty book...[Clark] is a coach rather than a scold, encouraging readers to 'live inside the language.'"—Colette Bancroft, St. Petersburg Times

"An engaging and witty exploration of the shifting rules of English grammar...Clark shows breathtaking knowledge of how language is used in the real world and a passionate commitment to helping writers make good choices."—Chuck Leddy, Minneapolis Star Tribune

"Who knew that a discussion of grammar could induce laughter? This is an eminently readable, extremely enjoyable guide that readers will find highly useful on their path to development, not just as writers, but as readers."—Publishers Weekly

"[Roy Peter] Clark takes readers through a well-paced presentation...he conveys the magic that is to be found in English, in its ever active evolution."—Margaret Heilbrun, Library Journal

"A wealth of practical advice delivered with a welcome side of gentle reassurance, Roy Peter Clark's Help! For Writers breaks the writing process down into seven steps, spotlighting 21 problems that befall writers along the way and addressing them with 210 solutions. No matter where you get stuck, dip into this book and you'll find tips and tricks to get yourself moving again -- all accompanied by the humor, wit and cheerful sympathy that have made Clark one of the country's most beloved and effective writing teachers."—Jason Fry, blogger, Reinventing the Newsroom
Little, Brown Spark, 9780316126700, 320pp.
Publication Date: January 1, 2013
About the Author
Roy Peter Clark is senior scholar at the Poynter Institute, one of the most prestigious schools for journalists in the world. He has taught writing at every level -- from schoolchildren to Pulitzer Prize-winning authors -- for more than forty years.

A writer who teaches and a teacher who writes, he has authored or edited nineteen books on writing and journalism, including The Art of X-Ray Reading, How to Write Short, Writing Tools, The Glamour of Grammar, and Help! for Writers. He lives in St. Petersburg, Florida, where he is considered a garage-band legend.