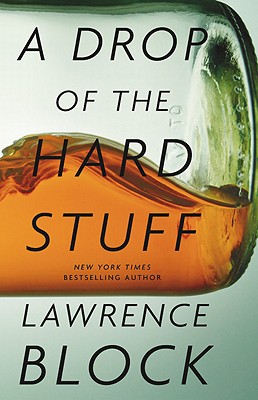 A Drop of the Hard Stuff (Hardcover)
Mulholland Books, 9780316127332, 336pp.
Publication Date: May 12, 2011
Other Editions of This Title:
Paperback (2/1/2012)
Hardcover, Large Print (5/12/2011)
Paperback (9/1/2011)
Paperback (9/1/2011)
Hardcover (9/1/2011)
* Individual store prices may vary.
Description
Facing his demons in his first year of sobriety, Matthew Scudder finds himself on the trail of a killer. When Scudder's childhood friend Jack Ellery is murdered, presumably while attempting to atone for past sins, Scudder reluctantly begins his own investigation, with just one lead: Ellery's Alcoholics Anonymous list of people he wronged. One of them may be a killer, but that's not necessarily Scudder's greatest danger. Immersing himself in Ellery's world may lead him right back to the bar stool.

In a novel widely celebrated by critics and readers, Lawrence Block circle back to how it all began, reestablishing the Matthew Scudder series as one of the pinnacles of American detective fiction.

"Right up there with Mr. Block's best . . . A Drop of Hard Stuff keeps us guessing." -- Tom Nolan, Wall Street Journal
About the Author
Lawrence Block is a Mystery Writers of America Grand Master who has won multiple Edgar and Shamus awards and countless international prizes. The author of more than 50 books, he lives in New York City.
Praise For A Drop of the Hard Stuff…
"A Great American Crime Novel ... good to the last drop. Totally gripping. The perfect introduction to Scudder's shadow-strewn world and the pleasures of Block's crisp yet brooding prose, [and] a bracing distillation of Block's powers."
—
Time
"Moving ... elegiac ... right up there with Mr. Block's best."
—
Wall Street Journal
"One of the finest in the entire Scudder series ... highly recommended."
—
Entertainment Weekly
"Sometimes you open a novel and you just know you're in the hands of a master. In the case of Lawrence Block's latest Matt Scudder mystery, the tipoff is a brazenly simple plot premise, faultlessly executed...Like a lot of great mystery fiction,
A Drop of the Hard Stuff
is also a ghost story. Matt's attempt to exorcise his phantoms results in a classic tale about the stubborn persistence of memory and regret."—
NPR
"Block is a mesmerizing raconteur ... elegiac ... a lament for all the old familiar things that are now almost lost, almost forgotten."—
The New York Times Book Review
"Smart and cunning ... reminds us that the really good writers can make even familiar situations seem newfound and energized."
—
Tampa Tribune
"Intriguing. Strong characterization and great eye for atmospheric detail makes his latest effort a dark but enjoyable tale."
—
Lansing State Journal
"A satisfyingly adult story, with a believable number of false starts and lose ends, as it pays tribute to the power of persistence and acceptance."
—
Columbus Dispatch
"Genius...the prose, as always, is like the club soda Scudder sips in the opening pages: cool, fizzy, and completely refreshing."
—
Booklist , starred review
"Powerful...Block's pitch-perfect prose bolsters the elegiac plot. Accessible to first-timers, this book should add many more fans to the author's considerable following."
—
Publishers Weekly (starred review)
"Lonesome, wintry, and compassionate . . . guaranteed to get under your skin."
—
Kirkus Reviews
"Pensive and philosophical, at times bleak, and at others surprisingly warm and human ... as rich and rewarding as it is devastating ... if you haven't read any of the Scudder books yet, this might be the perfect way to introduce yourself to one of crime fiction's most enduring characters."
—
www.PulpSerenade.com
"Hypnotic. You don't realize you're being sucked in until - BANG! - the plot thickens and suddenly you can't put it down. Another solid entry in the in one of mystery's most reliable series."
—
www.SpinetinglerMag.com
"There is really only one writer of mystery and detective fiction who comes close to replacing the irreplaceable John D. MacDonald ...The writer is Lawrence Block."
—
Stephen King
,
-
Book Videos
or
Not Currently Available for Direct Purchase