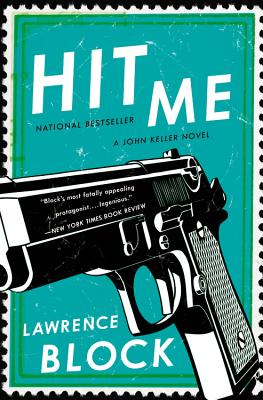 Hit Me (Keller) (Paperback)
Little Brown and Company, 9780316127349, 352pp.
Publication Date: October 8, 2013
Description
"Master mystery writer Block is at the top of his form."--"Library Journal" (starred review)
A man named Nicholas Edwards lives in New Orleans and renovates houses, making decent money at it. Between his family and his stamps, all of Nicholas's spare time is happily accounted for. Sometimes it's hard to remember that he used to kill people for a living.
But when the nation's economy tanks, taking the construction business with it, just one phone call drags him back into the game. His driver's license may say Nicholas Edwards, but he's back to being the man he always was: Keller.
Keller's work takes him to New York, on a West Indies cruise, and more. But the real high drama when a widow in Cheyenne introduces Keller to her deceased husband's stamp collection...
About the Author
Lawrence Block is a Mystery Writers of America Grand Master, has won multiple Edgar and Shamus awards and countless international prizes. The author of more than 50 books, he lives in New York City.
Praise For Hit Me (Keller)…
"HIT ME brings back Block's most fatally appealing protagonist...Aside from their ingenious methodology, what makes these amuse-bouches so delectable are the moral dilemmas Block throws up to deflect his philosophical anti­hero from a given task. Any assassin might hesitate to murder a child, but only Keller would ponder the ethics of killing someone whose premature death would rob a prostitute of payment for her professional services."
-Marilyn Stasio, New York Times Book Review

"A fine finale for a writer who never stopped growing, and who allowed some of his series characters the same privilege of changing."
-The Milwaukee Journal-Sentinel

"In the hands of a lesser writer, the philately passages would be insufferable, but Block makes them interesting in their own right as well a window into the soul of a hit man who can dispatch innocent bystanders without remorse but won't cheat on his wife and insists on being scrupulously honest in the buying and selling of collectible stamps."
-Associated Press

"Block plays like a master on the consciences of his readers, raising moral dilemmas and then whisking them off behind a diverting bit of dialogue or drama."
-The Columbus Dispatch

"In the fifth entry in the Keller series (after Hit and Run), the appealing antihero with his own moral code continues to dig into the motives of his distant employers and make his own decisions about who deserves to die. But stamp collecting is more than just a secondary theme here, and Block's discourses about the history behind stamps are vivid enough to pique the interest even of those not at all inclined toward the hobby. Master mystery writer Block is at the top of his form here."
-Michele Leber, Library Journal

"At times casually ruthless in snuffing out targets, Keller is also honest and ethical in his business dealings. A final assignment involving a child suggests that Keller may even play an unfamiliar white knight role, hopefully in the near future."
-Publishers Weekly, starred review

"It's easy to imagine Block grinning as he reinvents his always fascinating character [Keller]. Block writes so appealingly about the world of philately that some fans might decide to take up stamp collecting. HIT ME is a delightful change of pace."
-Thomas Gaughan, Booklist (starred review)
Advertisement