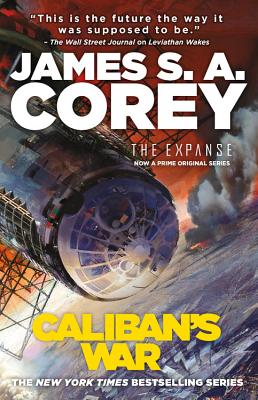 Caliban's War (The Expanse #2)
Paperback

* Individual store prices may vary.
Other Editions of This Title:
Digital Audiobook (8/14/2017)
Description
The second book in the NYT bestselling Expanse series, Caliban's War shows a solar system on the brink of war, and the only hope of peace rests on James Holden and the crew of the Rocinante's shoulders. Now a Prime Original series.

HUGO AWARD WINNER FOR BEST SERIES

We are not alone.

On Ganymede, breadbasket of the outer planets, a Martian marine watches as her platoon is slaughtered by a monstrous supersoldier. On Earth, a high-level politician struggles to prevent interplanetary war from reigniting. And on Venus, an alien protomolecule has overrun the planet, wreaking massive, mysterious changes and threatening to spread out into the solar system.

In the vast wilderness of space, James Holden and the crew of the Rocinante have been keeping the peace for the Outer Planets Alliance. When they agree to help a scientist search war-torn Ganymede for a missing child, the future of humanity rests on whether a single ship can prevent an alien invasion that may have already begun . . .

The Expanse
Leviathan Wakes
Caliban's War
Abaddon's Gate
Cibola Burn
Nemesis Games
Babylon's Ashes
Persepolis Rising
Tiamat's Wrath
​Leviathan Falls

Memory's Legion

The Expanse Short Fiction
Drive
The Butcher of Anderson Station
Gods of Risk
The Churn
The Vital Abyss
Strange Dogs
Auberon
The Sins of Our Fathers
Praise For Caliban's War (The Expanse #2)…
"This breakneck tale will have readers itching for book three."—Publishers Weekly

"Caliban's War is even better than Leviathan Wakes. It's old-fashioned space opera, the kind of SF that I cut my teeth on, a real page-turner set in a vividly imagined solar system... superlatively written."—George R.R. Martin, New York Times bestselling author of A Game of Thrones

"A worthy sequel to Leviathan's Wake. Compelling characters and a plot that combines political intrigue with military sf create a memorable story that begs for film adaptation."—Library Journal

"Tense and thrilling"—SciFi Now
Orbit, 9780316129060, 624pp.
Publication Date: June 26, 2012
About the Author
James S. A. Corey is the pen name of Daniel Abraham and Ty Franck. In addition to writing the novels and short stories of The Expanse, they wrote and produced the television series of the same name. Daniel lives with his family in the American southwest. Ty will tell you where he lives when and if he wants you to come over.