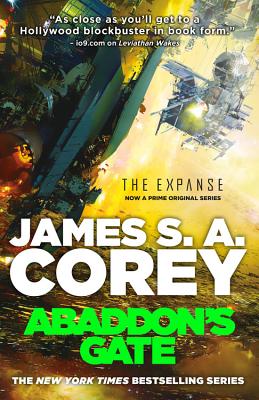 Abaddon's Gate (The Expanse #3) (Paperback)
Orbit, 9780316129077, 576pp.
Publication Date: June 4, 2013
Other Editions of This Title:
Digital Audiobook (8/27/2018)
Compact Disc (8/6/2019)
Compact Disc (8/6/2019)
* Individual store prices may vary.
Description
The third book in the NYT bestselling Expanse series, Abaddon's Gate opens the door to the ruins of an alien gate network, and the crew of the Rocinante may hold the key to unlocking its secrets.

For generations, the solar system -- Mars, the Moon, the Asteroid Belt -- was humanity's great frontier. Until now. The alien artifact working through its program under the clouds of Venus has appeared in Uranus's orbit, where it has built a massive gate that leads to a starless dark.

Jim Holden and the crew of the Rocinante are part of a vast flotilla of scientific and military ships going out to examine the artifact. But behind the scenes, a complex plot is unfolding, with the destruction of Holden at its core. As the emissaries of the human race try to find whether the gate is an opportunity or a threat, the greatest danger is the one they brought with them.

Abaddon's Gate is a breakneck science fiction adventure following the critically acclaimed Caliban's War.
About the Author
James S.A. Corey is the pen name of fantasy author Daniel Abraham and Ty Franck. They both live in Albuquerque, New Mexico. Find out more about this series at www.the-expanse.com.
Praise For Abaddon's Gate (The Expanse #3)…
"A politically complex and pulse-pounding page-turner.... Corey perfectly balances character development with action... series fans will find this installment the best yet."—Publishers Weekly (Starred Review)

"Riveting interplanetary thriller."—Publishers Weekly (Starred Review) on Leviathan Wakes

"It's been too long since we've had a really kickass space opera. LEVIATHAN WAKES is interplanetary adventure the way it ought to be written, the kind of SF that made me fall in love with the genre way back when, seasoned with a dollop of horror and a dash of noir. Jimmy Corey writes with the energy of a brash newcomer and the polish of a seasoned pro. So where's the second book?"—George R.R. Martin

"An excellent space operatic debut in the grand tradition of Peter F. Hamilton."—Charlie Stross on Leviathan Wakes

"If you like science fiction with great characters and set in real space, you'll enjoy this one."—Jo Walton, author of Farthing on Leviathan Wakes

"It gnaws at your soul."—Sun on Leviathan Wakes

"High adventure equaling the best space opera has
to offer, cutting-edge technology, and a group
of unforgettable characters bring the third installment of Corey's epic space drama (after Caliban's War and Leviathan Wakes) to an action-filled close while leaving room for more stories to unfold. Perhaps
one of the best tales the genre has yet to produce,
this superb collaboration between fantasy author Daniel Abraham and Ty Franck should reawaken an interest in old-fashioned storytelling and cinematic pacing. Highly recommended."—Library Journal on Abaddon's Gate (starred review)

"Politics, philosophical ideals, and humor mingle in a tale that will shock and surprise."—Publisher's Weekly on Abaddon's Gate (Starred Review)

"Literary space opera at its absolute best."—io9.com

"[T]he authors are superb with the exciting bits: Shipboard coups and battles are a thrill to follow."—Washington Post