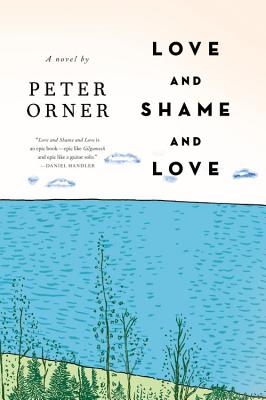 Love and Shame and Love
A Novel
Hardcover

* Individual store prices may vary.
Other Editions of This Title:
Paperback (11/13/2012)
Hardcover, Large Print (4/6/2012)
Description
Alexander Popper can't stop remembering. Four years old when his father tossed him into Lake Michigan, he was told, Sink or swim, kid. In his mind, he's still bobbing in that frigid water. The rest of this novel's vivid cast of characters also struggle to remain afloat: Popper's mother, stymied by an unhappy marriage, seeks solace in the relentless energy of Chicago; his brother, Leo, shadow boss of the family, retreats into books; paternal grandparents, Seymour and Bernice, once high fliers, now mourn for long lost days; his father, a lawyer and would-be politician obsessed with his own success, fails to see that the family is falling apart; and his college girlfriend, the fiercely independent Kat, wrestles with impossible choices.

Covering four generations of the Popper family, Peter Orner illuminates the countless ways that love both makes us whole and completely unravels us. A comic and sorrowful tapestry of memory of connection and disconnection, Love and Shame and Love explores the universals with stunning originality and wisdom.
Praise For Love and Shame and Love: A Novel…
PRAISE FOR LOVE AND SHAME AND LOVE
"Orner anatomizes family relationships with precision in a novel that spans three--and touches on four--generations....He approaches his narrative with a nonlinear chronology, moving back and forth from Seymour's wartime notes to Bernice, to Alex's adolescent peccadilloes, to Alex's letters to Ella. The result is a masterful, multifaceted novel. Readers will find both love and shame in abundance in Orner's teeming fictional world."—Kirkus Reviews

"Vibrant and captivating, this novel about three generations of the Popper family of Chicago resonates with truths about human nature....Orner's surefooted control of his narrative gradually discloses information that conveys emotional and physical atmosphere....Two themes-sometimes comic, often rueful-intersect throughout: the secret shames, frustrations, and humiliations that each character endures, and the search for love that blossoms and then fails in each generation. A richly layered, intimate picture of a distinctive but also typical family enduring life's vicissitudes and stoically carrying on."—Publishers Weekly

"Orner [has a] gift for the well-placed single word that can denote full-throttled exasperation....Addictively compelling."—Library Journal

"Love and Shame and Love is a marvel. It left me with that feeling we all crave when we read-the sense of wonder you wake with after a dream, realizing just how mysterious is this world."—Marisa Silver, Author of God of War

"Auden said that art is born of humiliation, which seems an ideal place to start appreciating Love and Shame and Love. A keen-eyed observer of American life and history, Peter Orner strips every layer of pretense from his characters, not to diminish but rather to reveal them. What's exposed--what they have been hiding from one another and from themselves--surprises, one suspects, even the characters themselves. This is a real and memorable America."—Yiyun Li, author of Gold Boy, Emerald Girl

"Love and Shame and Love is a finely crafted family album, told in comic and heartbreaking snapshots, of America in the 20th Century. Orner has captured his characters in motion, bringing the past exquisitely and precisely to life even as he illuminates the present, timeless, struggle to make family, and life, meaningful. This is a big, smart, generous, important novel."—Antonya Nelson, author of Bound

"I consider Peter Orner an essential American writer, one whose stories unfold with a flawless blend of ease and unpredictability. Every sentence he writes is wide awake to his characters' hearts, and it is for the clarity with which he makes me feel time working its changes in their lives, and by extension in my own, that I keep returning to his books. Esther Stories was among the best story collections of the last decade. Love and Shame and Love is among the best novels of this fresh new one."—Kevin Brockmeier, author of The Brief History of the Dead and The Illumination

"Love and Shame and Love is an epic book -- epic like Gilgamesh and epic like a guitar solo. When I finished it, my head was buzzing, my heart was pounding, and I was pumping my fist high in the air for Peter! Goddamn! Orner!"—Daniel Handler, author of The Adverbs

PRAISE FOR ESTHER STORIES (2001)

"The spirit of Esther Stories is, like true beauty, no aesthete, and, like true love, no sentimentalist." --Marilynne Robinson



PRAISE FOR THE SECOND COMING OF MAVALA SHIKONGO (2006)

"A gorgeously written book, very funny, and bursting with soul." --Dave Eggers, Guardian

"Orner hits the right notes and no others...He has written a starvation diary about desire with as much sexual tension as a bodice buster." --Mark Schone, New York Times Book Review
Little, Brown and Company, 9780316129398, 448pp.
Publication Date: November 7, 2011
About the Author
Peter Orner is the author of three widely praised books, Esther Stories and The Second Coming of Mavala Shikongo, and Love and Shame and Love.  His work has appeared in the Atlantic Monthly and The Best American Short Stories, and has been awarded two Pushcart Prizes.  A former Guggenheim Fellow, Orner is now a faculty member at San Francisco State University. 
Book Videos
or
Not Currently Available for Direct Purchase